As an Amazon affiliate, we earn a commision from qualifying purchases.
A nice way of making your kids have more fun with their power wheels is having them ride together or ride with their buddies.
And if big enough, you can even squeeze in and take a ride with him/her yourself – you will relieve your sweet childhood memories while bonding with your little one.
So what is the best 2 seater power wheels out there?
Well, below are our favorite picks:
Best 2 seater power wheels including the best 2 seater power wheels with remote control (Reviews of the best 2 person power wheels)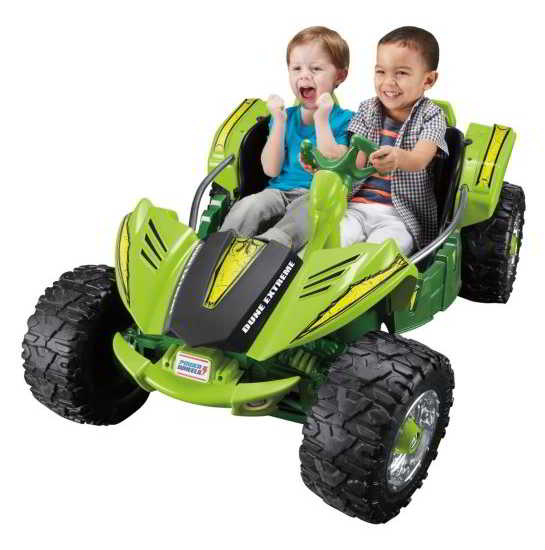 The Dune Racer is big enough so two kids should fit in comfortably – it's way bigger than other 12v 2 seater ride on cars (From pedal to the seats' back is approximately 30-inches and the seats are about 27-inches across).
Besides, it's super fun- from making full speed turns, going in reverse, to riding like a champ on grass (thanks to the monster traction system on the large tires), the Dune Racer excels on it all.
Keep in mind that it has a  forward, forward (fast), and reverse speed position plus a handy parent-controlled safety speed lock (you can limit it to 2.5 mph for safety).
And because of the low profile design, it's really stable (and won't tip over easily)
There are metal sidebars in case your kiddos need hand support.
Overall, the Dune Racer is perhaps the best 2 seater Power Wheels ride-on to be made so far – from taking a lot of punishment to the countless exciting features, it's a wonderful toy.
Specs
Battery: 12 volts, 9.5AH
Run time: From 30-35 minutes continuous ride time
Speed: 2.5 and 5mph (forward) and 2.5mph (in reverse)
Max weight limit: 130 lbs
Dimensions: 51.97 inches x 35.43 inches x 25.59 inches
Recommended age: 3-7 years
Others: Cool 'chrome' accents, secret storage compartment (under the hood), Power-Lock® brakes, 2 forward drive speeds, monster-traction drive system, high-speed lock out
Pros
Easy to assemble
​Loads of realistic details
A lot of torque
Cons
The seat is not adjustable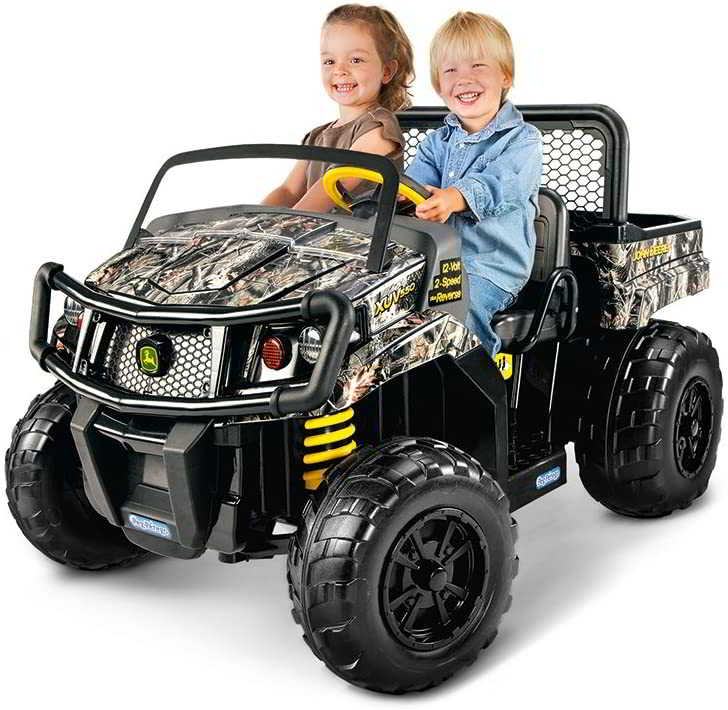 The popular Gator is 54 inches long x 34 1/2 inches wide x 30 inches tall once fully assembled so it's another big option for siblings/buddies who like to ride together.
More importantly, there is a bunch of great features including seat belts (for safety) and a handy cup holder.
We also love the large dump bed (with opening tailgate) so your little ones can haul everything they can imagine.
Also, there is an easy adjusting seat (meaning that you can increase the legroom by adjusting the seat).
And oh, this looks so much cool thanks to the authentic Camo design (the Camo is all stickers so you will need to put it on by hand).
Your wannabe driver can drive this 2 seater ride on car at 2.25 (low) or 4.5 mph (high) thanks to the 2-speed shifter (it has a reverse too).
Don't forget that there is a high speed lockout feature to keep them from riding too fast.
The only issue is the plastic wheels- they do not do very well when off road especially in grass (see how to improve traction on power wheels)
Specs
Battery: 12 volts
Run time: From 45-90 minutes
Speed: 2.25 and 4.5mph (forward) plus reverse
Max weight limit: 130 lbs
Dimensions: 54 inches x 34.5 inches x 30 inches
Recommended age range: 3+ years
Others: Authentic REALTREE Camo, high-speed lock out, seat belts, cup holder, aggressive front-brush guard, dump bed (with tailgate)
Pros
Holds battery charge pretty good (better than most 2 seater power wheels).
Good space between the dash and the seat
Very durable toy.
Cons
No real dashboard features (it just has stickers) or even working headlights.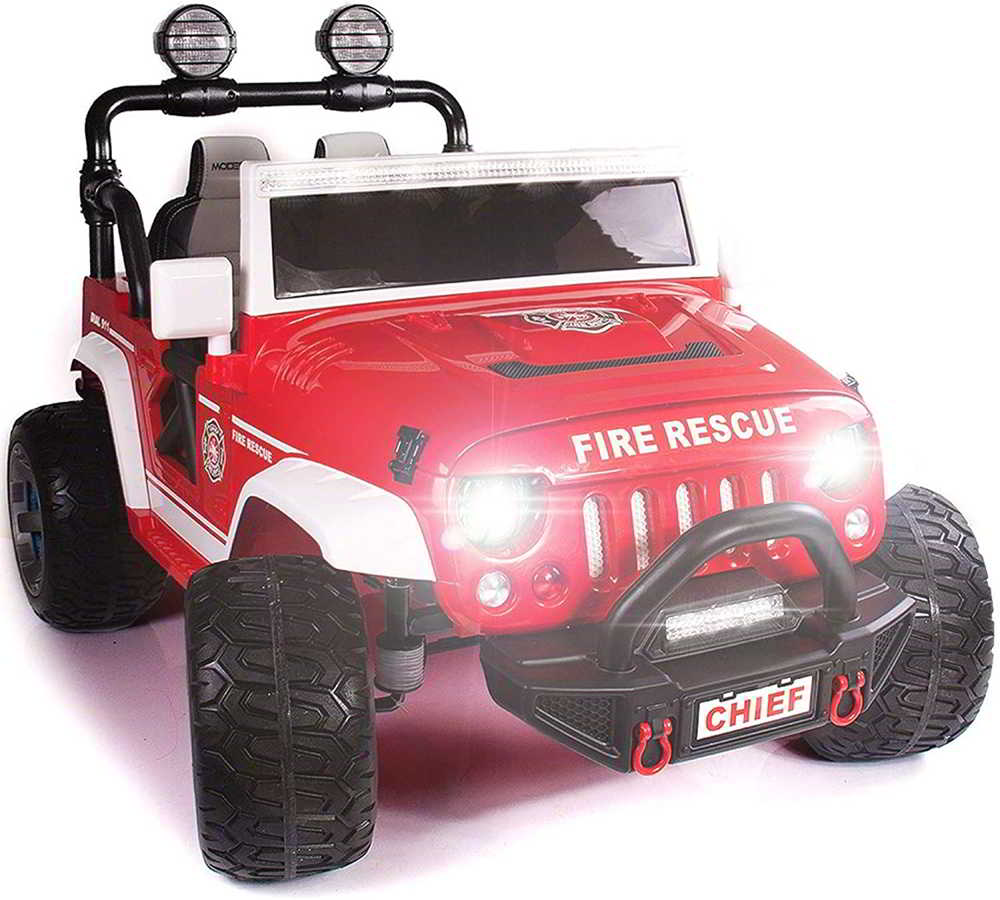 This two seater truck car can be a gift to remember for kids who like driving together too.
You see, they can ride it at up to 6 mph -the slowest speed is 2mph- forward (it has a reverse option as well).
You will also love it as a parent because …well, it has a working remote control so you'll have a way of controlling it until they are good at driving it (the remote will overpower and stop it anytime).
Your little ones won't be scared when starting it up either (it features a soft start) and they can stop it fast thanks to the reliable electric braking system.
Add the radio, Bluetooth feature, programmable music, horn, and super bright lights and you will start to understand why this is widely considered one of the best 2 seater power wheels with remote.
The seats are roomy too and they come with a 2-way convertible seat belt (you can use it as single driver safety belt if 1 child is riding or as 2 separated seat belts when 2 kids ride it)
It has 3 speed options and foam rubber tires (these have better traction than plastic wheels).
In short, this includes everything and feels pretty much like a real car!
Specs
Battery: 12 volts
Run time: From 60 minutes
Speed: 2 to 6mph forward plus reverse
Max weight limit: 100 lbs
Dimensions: 50 inches x 31 inches x 30.5 inches
Recommended age range: 3-6 years
Others: Battery life display, bright LED lights, Bluetooth phone connecter (to play music), FM radio, parent remote control (long range), foam rubber tires, soft start, electric brakes, openable doors
Pros
Countless fun features such as the light and cool music.
Functional remote control (for parents).
Roomy PU leather seats.
Can be transported like a luggage.
Cons
The price tag is a little hefty.
Best 2 seater power wheels – more picks
If you feel that you could do with more options, here are 5 extra picks that could fit the bill:
Kid Motorz Hummer 12V H2 Battery Powered Jeep (Pink)– there is a lot to love in this cute ride on including (2) forward speeds, one(1) reverse speed, nice pretend seatbelts, high speed lockout (to prevent them from crashing it), storage space for other play gear (in the back). It is for 2 riders (up to) aged 3+ years and its maximum weight capacity is 130 lbs.
Sierra Denali HD 12v 2 seater ride on Truck– This 2 seater power wheels jeep can be a great alternative to the picks we have reviewed above. It looks good when stickers are put on, the battery is quite powerful, and size is good (for 2 kids to ride).
Kid Trax large 2 seater ride on car – This large UTV style ride on is perfect for the sidewalk, driveway, or backyard. It is recommended for two riders aged 3 – 7 and has a weight limit (maximum) of 110 lbs
Costzon 2 seater power wheels 24v – This 24 volts Land Rover licensed truck looks pretty much like an original land rover vehicle and has loads of fantastic features. Check the specs on Amazon here.
TOBBI 2 Seater 12V Ride-On Mercedes Benz Licensed Electric car– You get a parental remote control, 4 sturdy nonslip, wear-resistant wheels, 3 speeds (high, normal, low), and more with this 2 seater ride on Mercedes car.
Final thoughts
These ride-ons are perfect for your fun-loving little drivers and you cannot go wrong with them!
Take your pick and let the two inseparable siblings have a blast.
They will thank you.
ALSO READ:
Ride on jeeps with remote control – 3 awesome Jeeps for kiddos
Ride on police car for toddlers (4 best picks)
Power wheels for 5-10 year olds that will make your kid go gaga
Electric cars for 6 year olds – 3 mind-blowing choices
Trailer for power wheels truck – Your best options
Convert power wheels to lithium battery: try these batteries
Power wheels jeep rubber tires – here are options you can try
Best power wheels for 7 year old – 3 big enough cars