As an Amazon affiliate, we earn a commision from qualifying purchases.
Buying power wheels for 5-10 year olds can be pretty confusing- kids at this age will typically have outgrown their toddler power wheels so your kiddo is likely to need something slightly bigger and more thrilling.
To point you in the right direction, below are some great options if you're shopping for a power wheels for 5-10 year olds that will make your little driver go totally gaga:
10 Power wheels for 5-10 year olds that will make your kid want to play all the time
Riding a power wheels is nearly like a right-of-passage in every kid's life.
Below are the age-appropriate power wheels for 5 10 year olds that will be loads of fun for your wanna-be driver as he/she tries to learn how to drive like mom or dad.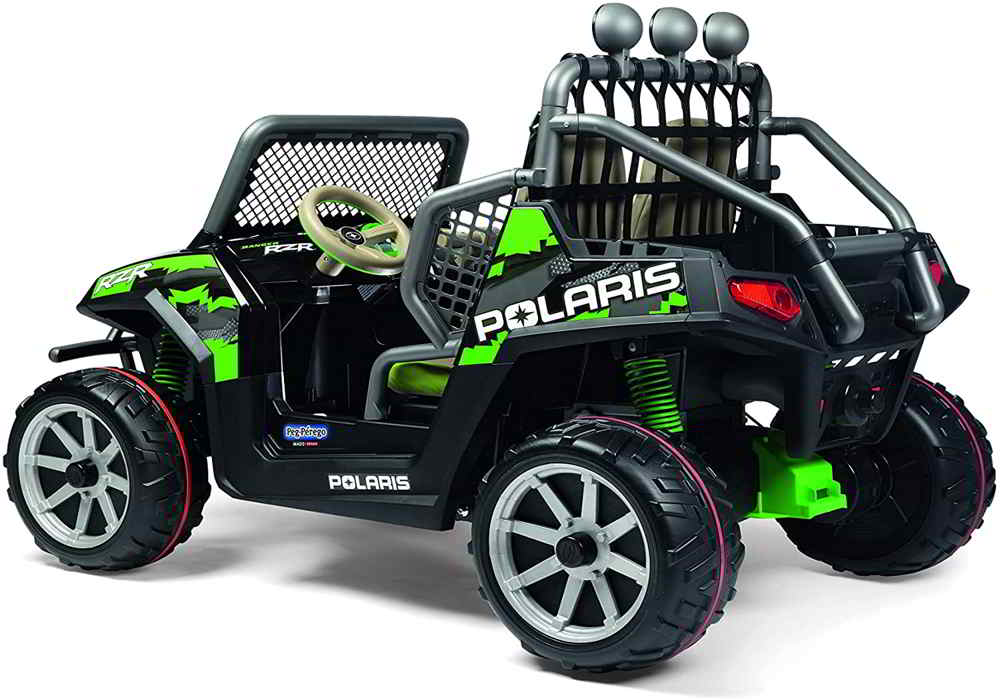 The first power wheels for 5-10 year olds we recommend is this powerful two-seater off-road vehicle (in fact, it runs on a 24Volts/12Ah battery).
It is built for adventure-loving kids from 6 years (and up) and travels at a max speed of 10 km/h (6.2 mph).
The large wheels in this adorable ride on ATV go over any kind of terrain- and it can easily deal with slopes (of up-to 17%).
Overall, it can be a good way to create fond memories for your son/daughter (weight cap is 150lbs)!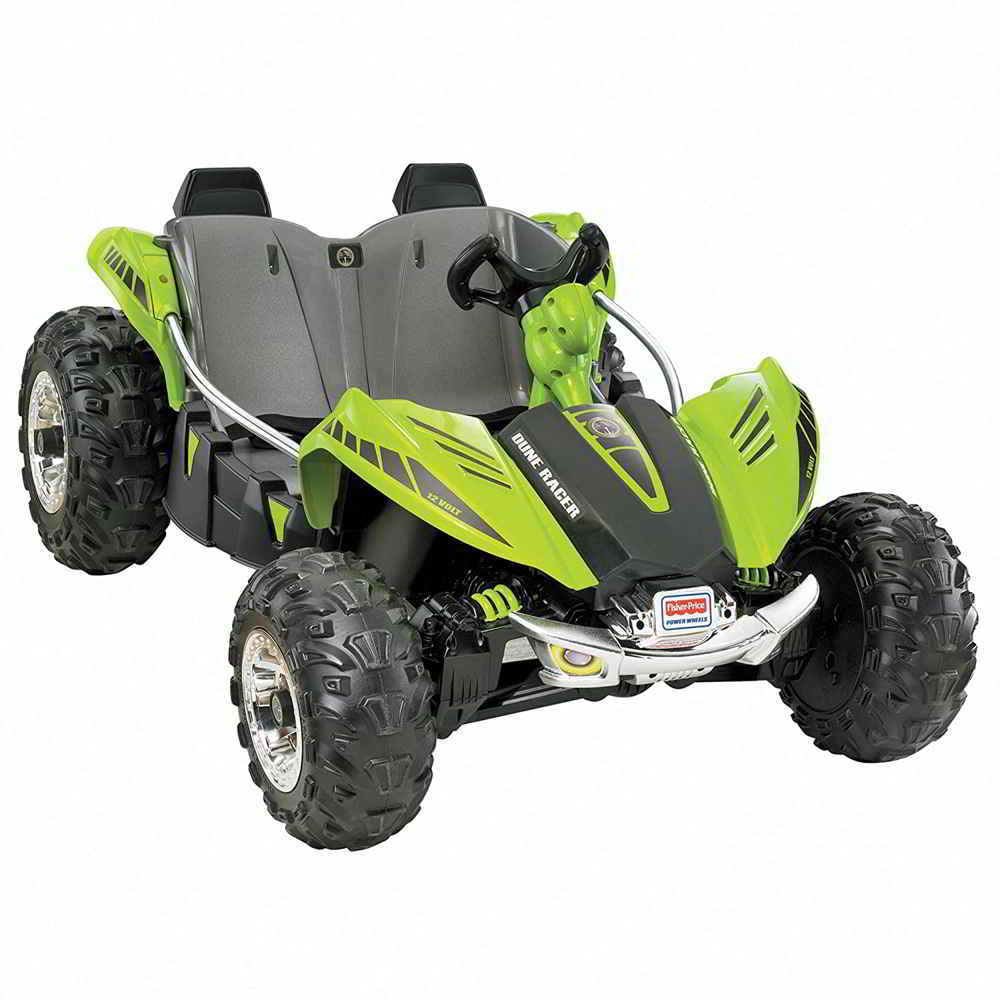 The Dune Racer is well suited to 5-10 years old children -it is great even for kids who are 4'5 so it has room to grow for shorter kids.
There is also plenty of room for two children to ride together if they're on the smaller side.
And this 2 seater goes over grass absolutely well too.
Max weight is 130 lbs (59 kg).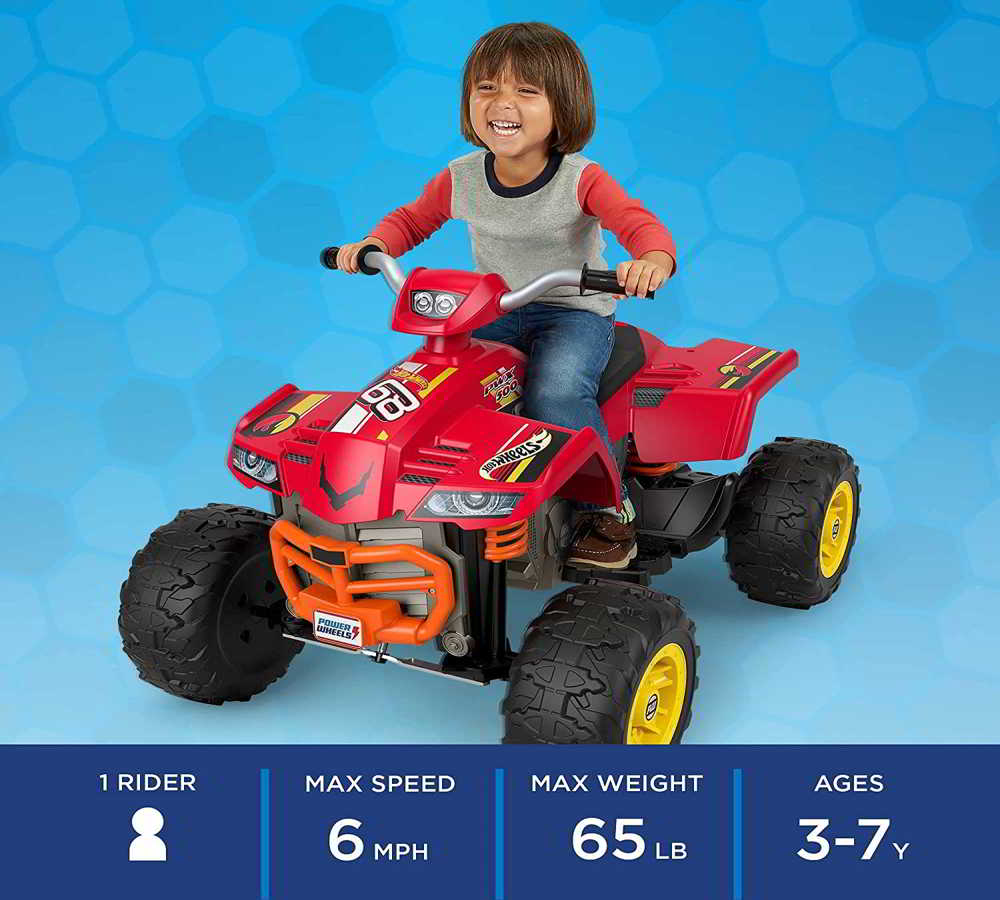 This features realistic quad styling plus out-of-this-world graphics.
In addition, it drives at 6 mph (max, forward) and 3 mph (max, reverse) and does well both on wet grass and hard surfaces.
For safety, there is a parent-controlled high-speed lockout feature and power-lock brakes (these stop the vehicle automatically when your kid lets go off the pedal).
The manufacturer recommends it for kids up to 7 years and its max weight limit is 65 lbs.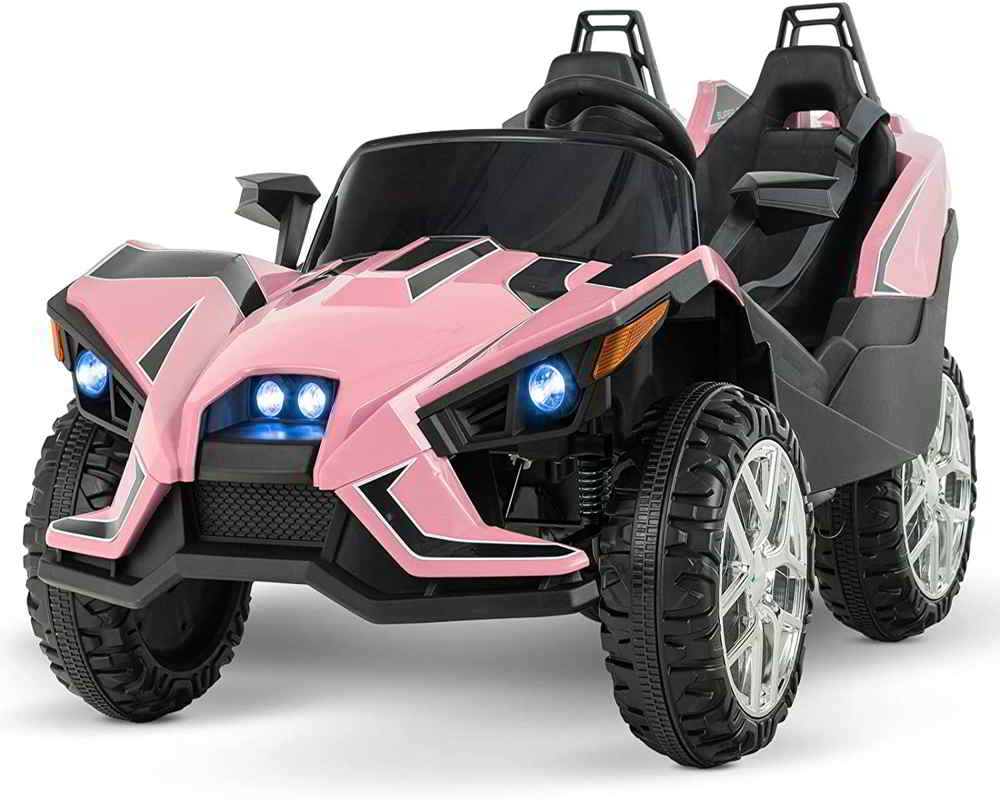 This ride on car features 2 larger seats (with adjustable seat belts for kids safety) and a larger weight capacity (77lbs).
To be clear, the size of this ride on is 56 inches *31 inches *27 inches (L x W x H) and it is best for kids up to 8 years old.
And oh, it looks so freaking cool!
This solid-built kids dozer is designed for kids up to 7 years old and has a weight limit (maximum) of 55 pounds.
Most importantly, it's really like a real dozer so it can be a wonderful birthday (or holiday) present for kids who love construction work.
Keep in mind that its dimensions are 44.38 inches x 29.55 inches x 30.38 inches.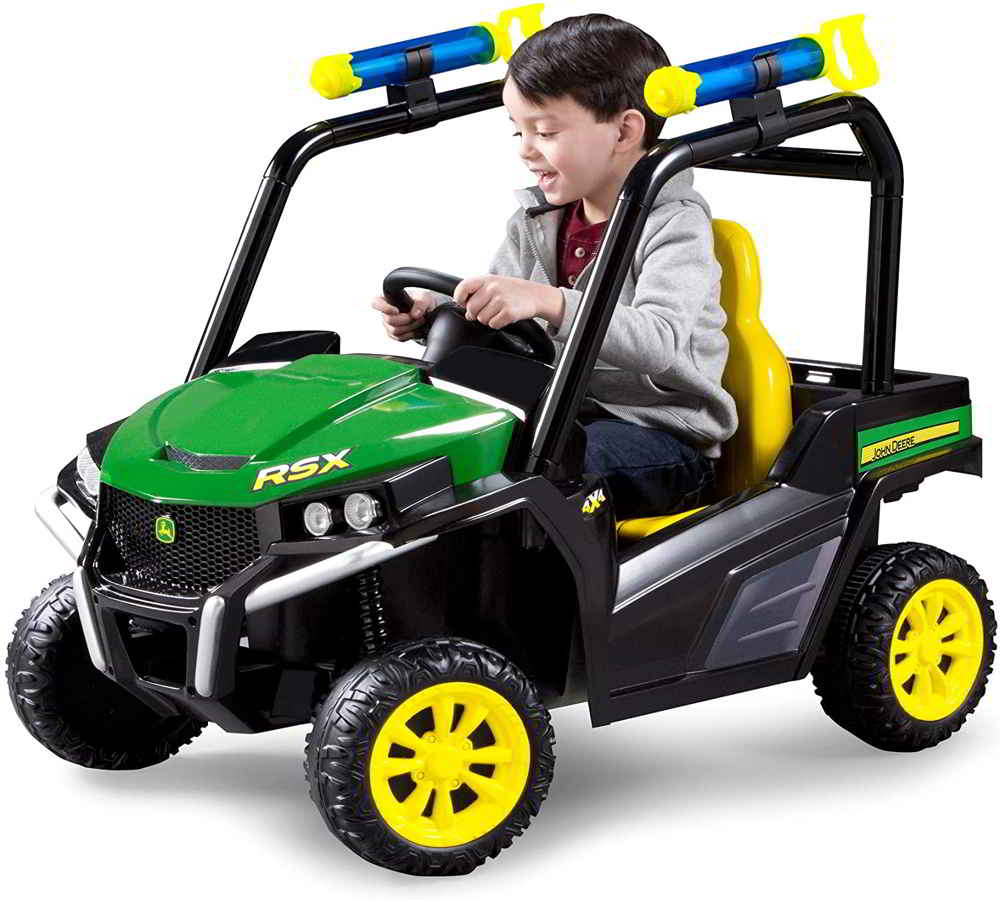 Another good option for an exceptional outdoor adventure would be this John Deere Gator ride on toy, a single-seat electric vehicle that is easy to master and roomy enough for kids up to 8 years old.
It comes with lights, great sounds, 2 detachable water bazookas, and even an input jack (for his/her personal music device).
There is a good motor in this off-roading toy so there is nowhere it won't go- it climbs even small hills.
The weight limit is 75 lbs.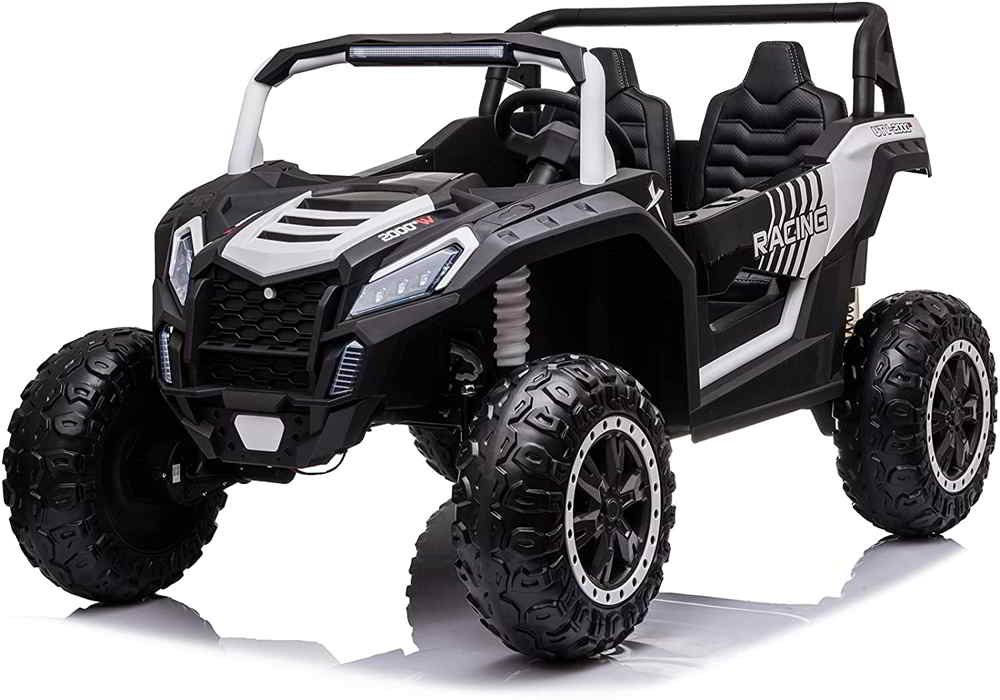 This ride-on buggy car is a 2 seater as well and the larger seating space means an adult can drive with their kids (or your 2 big kids can drive together).
The max load cap is 220lbs and it can ride at a max speed of 5.6mph, which is faster than most slow-riding toddler power wheels.
What's more, this 4×4 ride-on truck has an impressive 24V/10Ah battery powering it, which means hours of playtime for your little ones.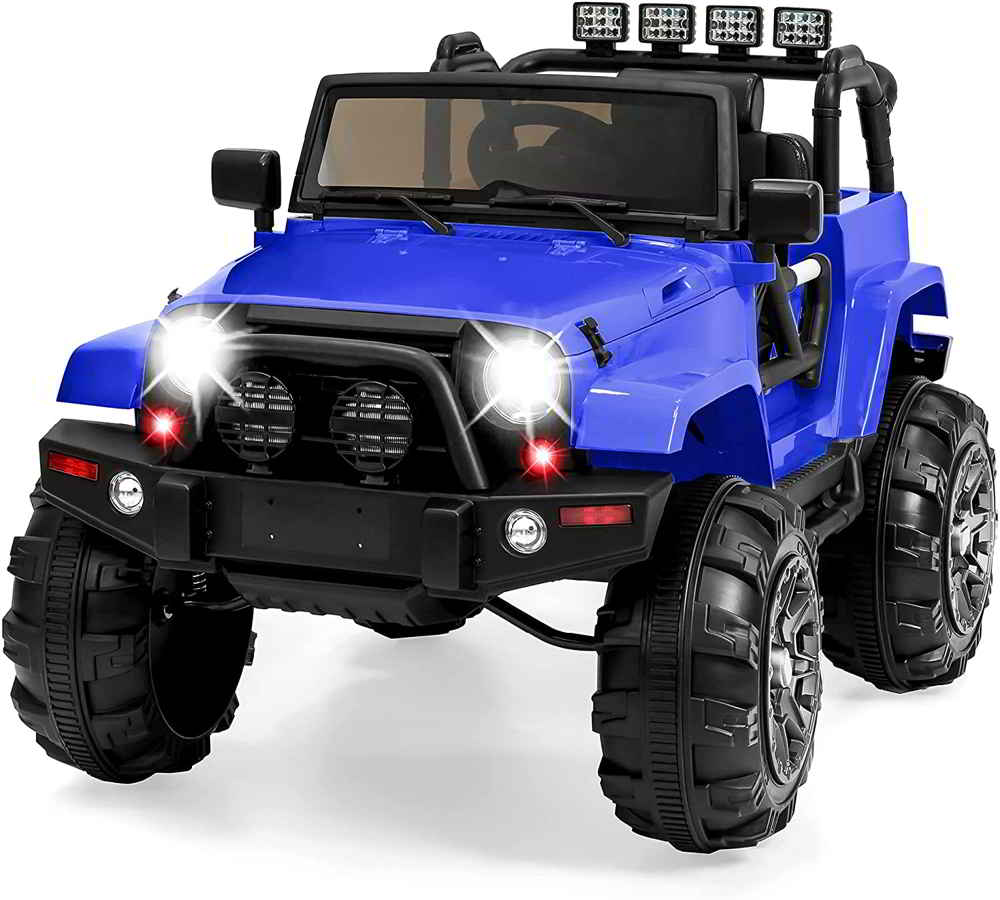 This Best Choice brand Jeep is big and fine even for 10 year olds (though the manufacturer recommends it for kiddos up to 8 year old, it's rather spacious).
You will love the LED lights, the sounds, the radio, spring suspension, 3 speeds (one reverse), remote control, etc.
The price is very good and build quality excellent too.
The overall dimensions are 46 inches(L) x 29.5 inches (W) x 31 inches (H) and the weight capacity is 128 lbs.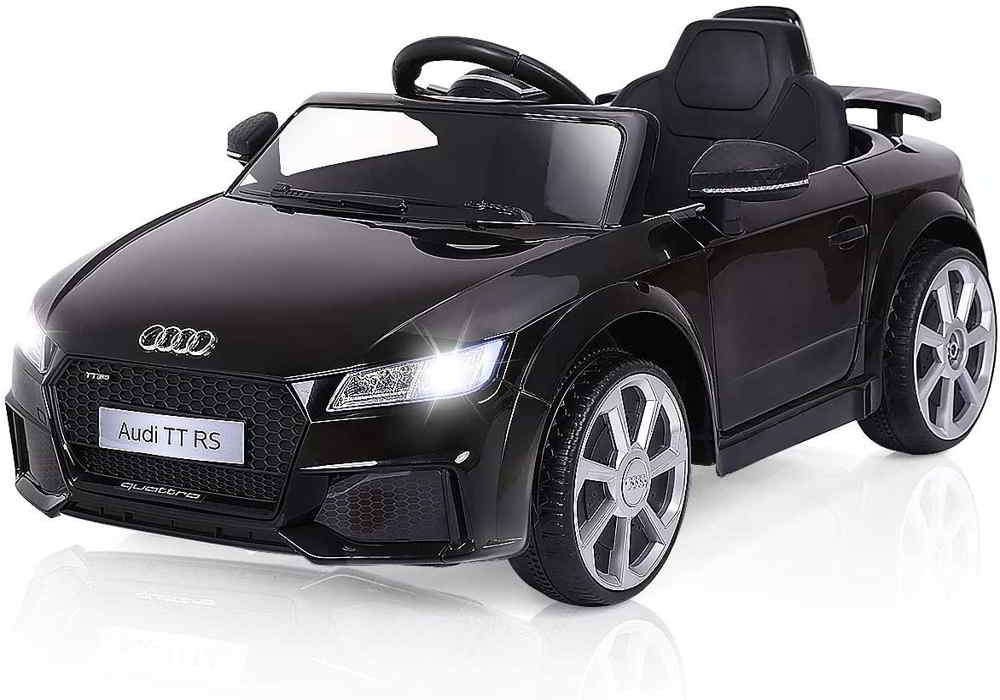 Your kid will probably be in heaven when he/she sees this under the Christmas tree.
This car is amazing because of its fairy bigger size for older children and countless nice touches (remote control, safety belts, music function, front and rear LED lights, MP3 audio input, battery indicator, etc.).
It rides with strong power thanks to the two powerful motors (it has two 6v batteries)
The overall dimensions are 41 inches (L)×25 inches (W)×18 inches (H) and the max load capacity is 66 lbs.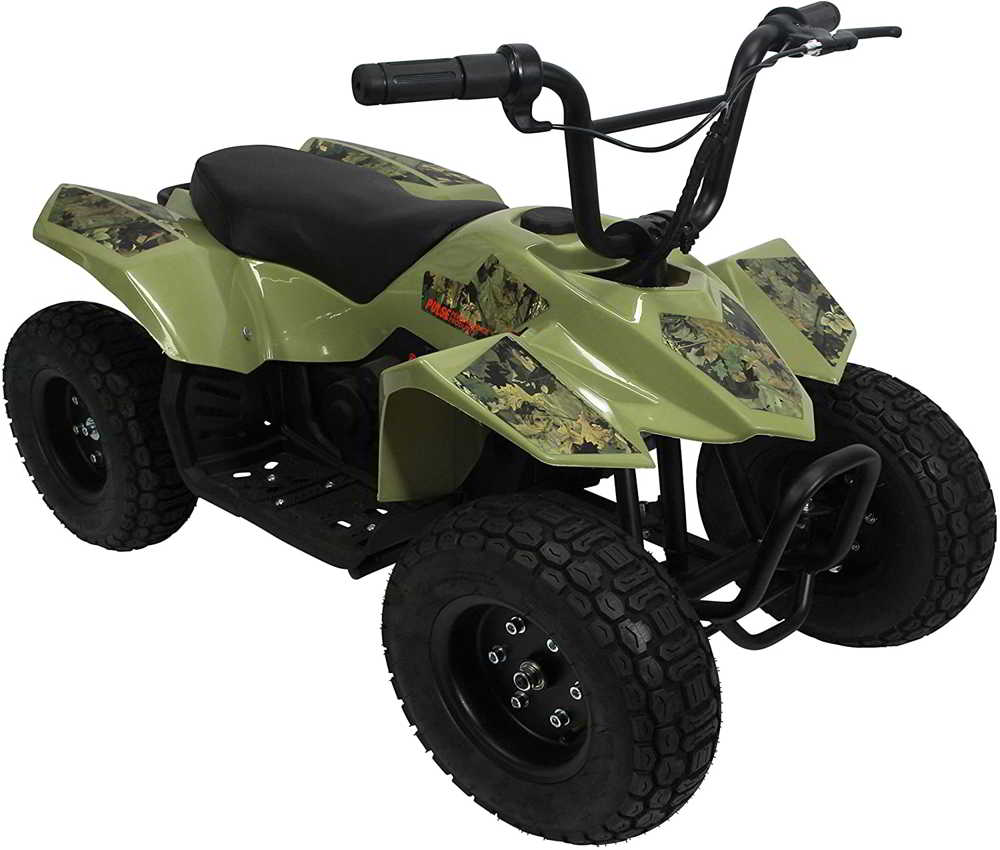 This Quad is really big -the dimensions are 39 inches (length) by 21 inches (width) by 27 inches (height) which is way bigger than a normal miniature ATV.
The tires have good traction too and big (so it conquers different terrains effortlessly).
It feels super solid and the speed is magnificent making it a lot of fun (max speed is around 8mph).
In a nutshell, this can be a mind-blowing beginner ATV Quad 4-wheeler for older kids and your little champ will have a blast with this fantastic ride-on.
The max weight limit is 120lbs and it's best for kiddos aged 8+ years.
Ride on toys for 5-10 year olds: How to Choose a Power Wheels for 5-10 Year Olds
Check his/her size and weight
Whether it will fit him/her will largely depend on your kids' body size so it's important to have a rough idea about his height (the last thing you'd want is your kiddo bending his/her legs to fit) and weight.
That being so, you want to check the dimensions and weight limit of each power wheels you're considering so that you can be sure it will be a good fit for your child.
A power wheels with room to grow into can also be a good idea if you're worried that he/she will soon outgrow it.
Check his/her interest level
It's an open secret that there are features that thrill bigger kids more than others.
For example, if your kiddo loves construction work, it makes more sense to gift him/her a power wheels bulldozer than a power wheels like the BBQ Fun Jeep Wrangler (this would be more fun for kids who love to play kitchen)
Consider a 2 seater
If your little driver loves having his friend for company when behind-the-wheel, look for a 2 seater that fits the bill.
Be careful here- if you select a power wheels that is too tiny, the pair will not only appear too crowded but they're likely to be extremely uncomfortable (and sometimes it is not safe, especially if they exceed the weight limit)
Consider a remote control
Some power wheels can be a little difficult to learn to drive for children at first so you might want a power wheels with a remote control for his/her safety, at least initially.
Quick Tip: Before you choose, be sure to read our comprehensive power wheels buying guide)- there are more tips in there and they will go a long way in helping you make the right decision.
Final words
Whether you're looking for your kid's first power wheels or a ride on vehicle with room to grow into, the above models are age-appropriate for kids between 5-10 years.
Don't forget that whether it will be ideal for him/her will largely depend on your kids' body size so check its dimensions and exact weight limit.
Good luck to you and your kiddie!
ALSO READ:
Electric cars for 12 year olds to drive [3 Best picks]
Best ride on cars 24v – Pick the best 24 volt power wheels from this list
Trailer for power wheels truck – Your best options
Best power wheels for 7 year old – 3 big enough cars
Power wheels for 8 year olds [3 great picks]
Best 2 seater ride on car with parental remote control [Reviews]
Power wheels 12v battery alternative [3 great alternatives]