As an Amazon affiliate, we earn a commision from qualifying purchases.
Read this if your son/daughter has been asking for a trailer for power wheels truck to haul stuff while driving around..
Now, there are many reasons why your little one may love pulling a trailer behind his/her power wheels truck …..
From helping with yard work (Perhaps your little one has been wanting to help in hauling leaves, longs, and all types of stuff) to safely transporting playing gear and snacks, there are a lot of reasons kids are obsessed with trailers.
Most importantly, a trailer transforms the power wheel into a more amazing toy car thanks to the unlimited creative play/work options it provides..
He/she will even learn so much with regards to proper trailer handling – and this could prove a valuable experience a little later in life.
In short, a trailer is a great little item to have.
So here are some trailers that work perfectly with a power wheels truck – consider them if you have finally decided to gift him/her a trailer for power wheels truck.
Trailer for power wheels truck – your options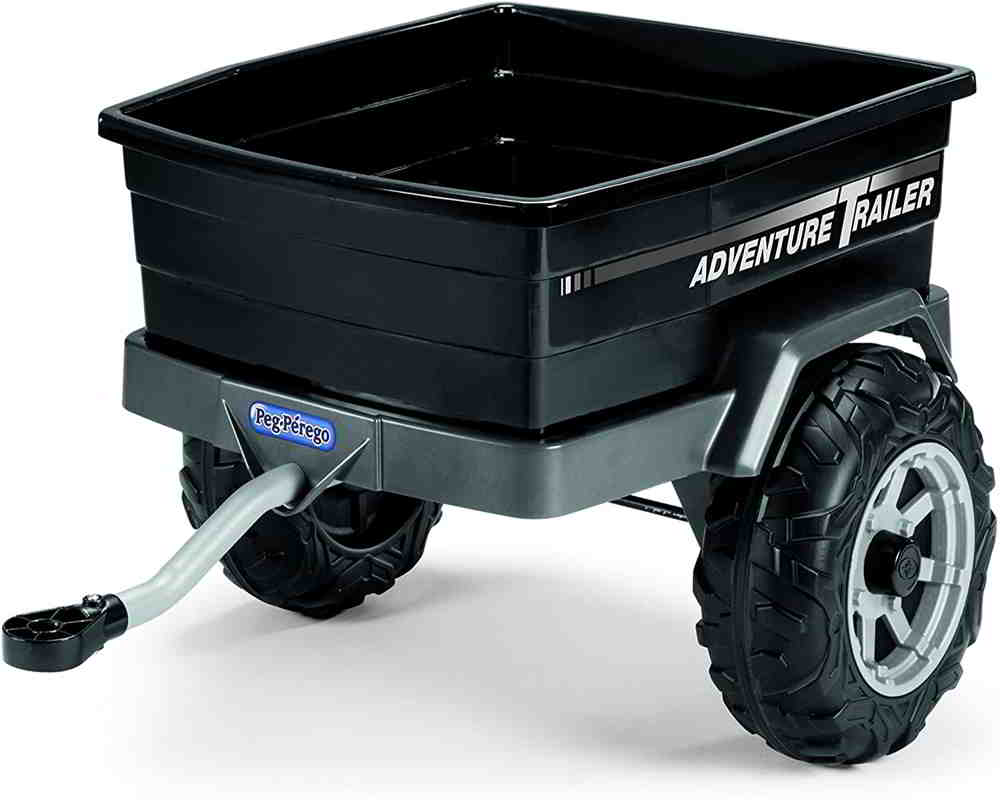 Ramp up playtime fun for your little helpers with this wonderful Peg Perego  Adventure Trailer!
It is compatible with a majority of 12-volt and 24-volt Polaris ranger trucks and Peg Perego brand trucks and kids absolutely love it.
Just to clear up things, there are other truck models this trailer is known to work with including GMC truck and Power wheels F150 truck (it may be necessary to perform some degree of modification to fit it on some models).
It's not only super easy to assemble but also to attach to a truck (For easy attachment to your truck, the adventure trailer comes with a locking hitch pin).
And with the trailer having an ability to hold 66lbs (max), there is plenty he/she will haul with this trailer.
The wheels are rugged and super durable so it goes over any terrain without any issue (think grass, asphalt driveways, stone walkways, and more).
Specs:
Wheels type- sculpted tread (All terrain)
Hauling capacity- 66 lbs/30kg.
Material Frame-Anti-corrosion treated iron, PP polypropylene, High-density PEHD.
Box Size-73cm x 68cm x 47,5cm (28.74"x26.77"x18.7")
Sealed base- Yes
Size-103,4cm x 77cm x 55,6cm (40.75"x30.25"x22")
Pros
Built really well
Drives great even at a faster speed (super stable)
Easy to put together
Cons
Unfortunately, it is not compatible with some power wheels brand trucks (modifications needed).
Alternative option: Build this Trailer for power wheels truck
If you are good with DIY stuff, maybe you should consider building a trailer for your son's truck.
It's not the hardest thing to do on earth and it may even be more economical than buying a ready-made trailer (overall, DIY trailers for power wheels are cheaper to construct depending on the materials you use).
If you do it right, the only problem you'll notice is that he/she will want to constantly look behind all the time (haha!)
And you can walk free-handed while your kiddo drives herself/himself and all his stuff.
To cut the long story short, there is probably no better way to give your grandson/granddaughter endless hours of joy!
If you'd like to give this a shot, go here to view some pictures of a power wheels flatbed trailer (gooseneck) that works awesomely with a variety of power wheels trucks for inspiration.
The features of this kind of power wheels trailer attachment include dovetail, stake pockets, jacks, adjustable hitch, plus a custom hitch you design and make that you hook up to a 2-inch ball.
How to make a trailer for power wheels – alternative 2
Another option if you'd like to build is recycling one of your unused push carts to use as a trailer.
That is exactly what Pas has done in the power wheels trailer DIY YouTube video below – he is building for a Power Wheels Ford 150 raptor and as you'll see, the end product is just amazing.

It is a project that anyone can attempt as long as you are determined enough (you really don't need to be an engineer to hack it).
Perhaps you should go ahead and try to copy the steps in the above Power Wheels Ford 150 Raptor Trailer DIY construction project for your kid's truck.
Wrap up
We did not find a lot of choices out there – it seems not many brands make power wheels truck trailers so you have to either build or settle for the Peg Perego Adventure Trailer for Ride On.
Of course, building can be more cost effective (as long as you use inexpensive materials) but then it needs you to be a little handy to pull it off.
Don't forget that the Adventure Trailer fits a majority of 12-volt and 24-volt Peg Perego brand trucks without any modification.
ALSO READ:
Convert power wheels to lithium battery: try these batteries
Upgrade 12v ride on to 24v – steps and requirements
How to make 12v power wheels faster
Power wheels fuse keeps blowing [What to do]
Trailer for power wheels jeep
Power wheels jeep rubber tires – here are options you can try
Rubber tires for power wheels dune racer – try these upgrades