As an Amazon affiliate, we earn a commision from qualifying purchases.
If you have an aspiring cop in the house and he/she has been waiting patiently for a 'real' police car gift, it could be time to honor your word..
If that's so, below are ride on police car for toddlers that your (future) little officer will definitely love..
Ride on police car for toddlers – toddler police car ride on small kids really love
Most kids enjoy playing cops and robbers.
Here are our ride on police car for toddlers picks to help them go after the bad guys: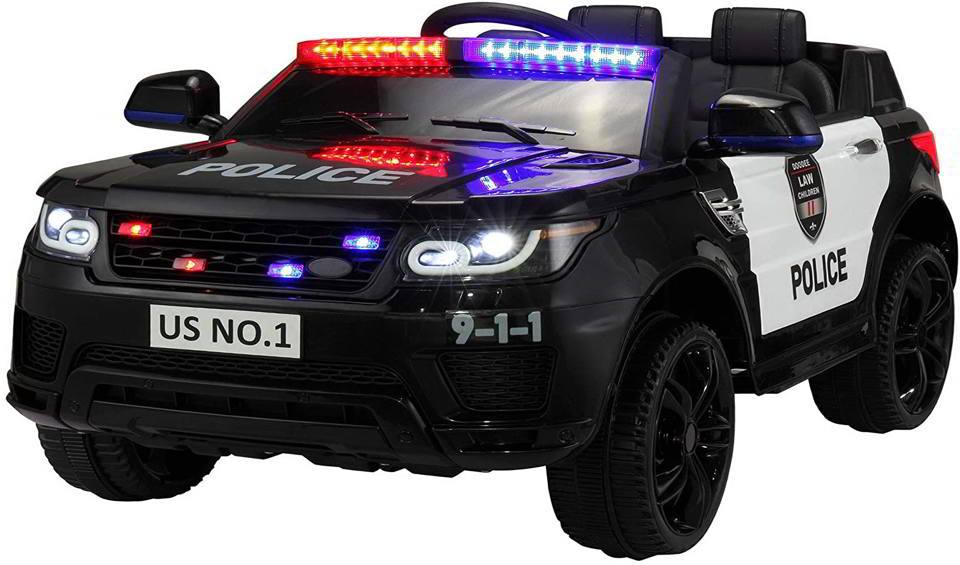 This is really just like a real police car – there is a real megaphone, nice police lights plus separate headlights, and a horn.
There are other super cool features too- there is a blue tooth, USB hookup, preloaded songs, and even a parental remote.
Most importantly, everything on this Police SUV works fine- from the life-like sounding siren, lights, to the horn while your son/daughter goes to make an arrest.
The battery life is great as well.
Here is what makes it great for small kids/toddlers (note that it's rated for 3-6 years old):
First, it's smaller than regular police ride on cars (for the most part, only one toddler fits in comfortably at a time).
Secondly, the power is not excessive and it drives at a decent but safe speed.
Overall, it's a very good police ride on car for the money.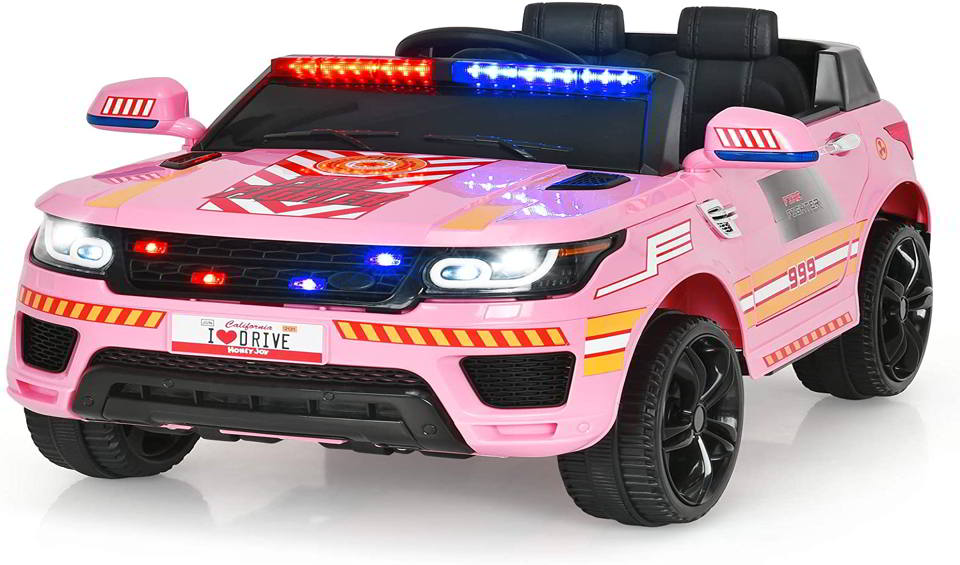 This adorable and absolutely fun gift for toddlers comes with loads of nice touches including a fantastic PA system that mimic a police vehicle 100% and lights (the LEDs make it look really cool during night-time raids).
It has to be said that a lot of kids are extremely excited about the radio and siren.
And this toddlers' dream police car comes with a parent remote as well so it so much easy to drive your little one around as they learn how to steer or drive it.
Don't forget that it has a safety belt (and a good suspension system) for a smooth, stable, and safe riding experience for toddlers.
It starts easily – with a simple push of the button- and the slow start-up design ensure that your kid will not be frightened by an excessive acceleration.
The measurements for this motorized police car are 43.5-inches(L) X 27-inches (W) X 21-inches (H) and the fit is typically great for toddlers (and he/she will have room to grow into) and it has a maximum bearing capacity of about 66 lbs.
It can run for 1 – 2 hours depending on issues such as the rider's driving skills.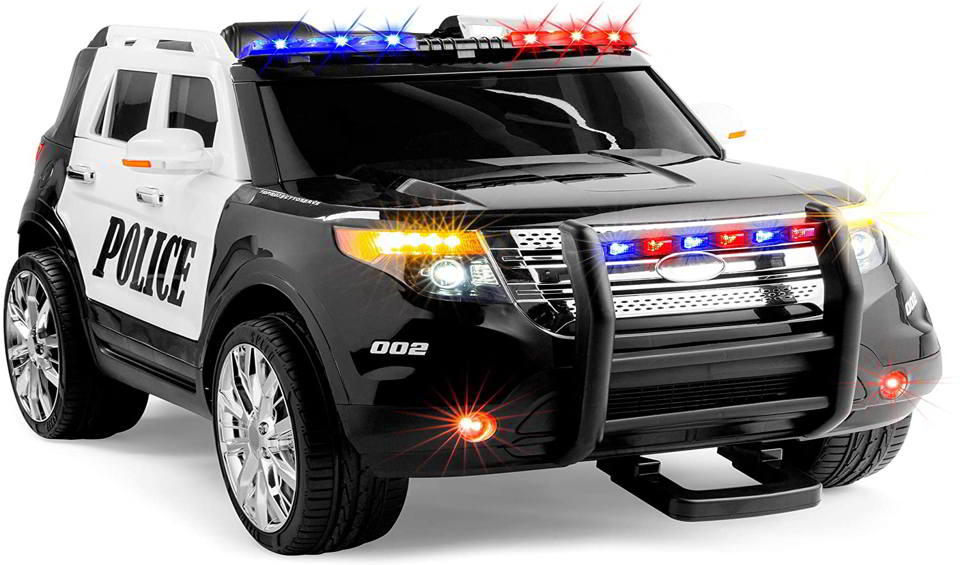 This Best Choice Products kids police car can be another awesome choice.
Featuring a realistic siren, impressive engine sounds (the sounds are amazing even an intercom), working horn, and cool flashing lights (lights are everywhere), this will surely give your kiddo a true feeling of being on duty.
This SUV has seat belts so he/she can go patrolling while buckled up (for safety).
And to make your little one's chase more enjoyable, there is a built in AUX outlet so you can plug in an appropriate media device (and have him enjoy his/her own favorite music).
It is durably crafted (with tough-grade PP plastic) to withstand years and years of use.
The other highlights are the extra storage space and a handle (below grill guard) for easier transportation (when he is not chasing pretend law breakers).
It's worth mentioning that it is quite easy to assemble and everything kind of just clicks into place.
Overall dimensions: 45-inches (L) x 25-inches (W) x 22.5-inches (H)
Maximum weight Capacity: 77lbs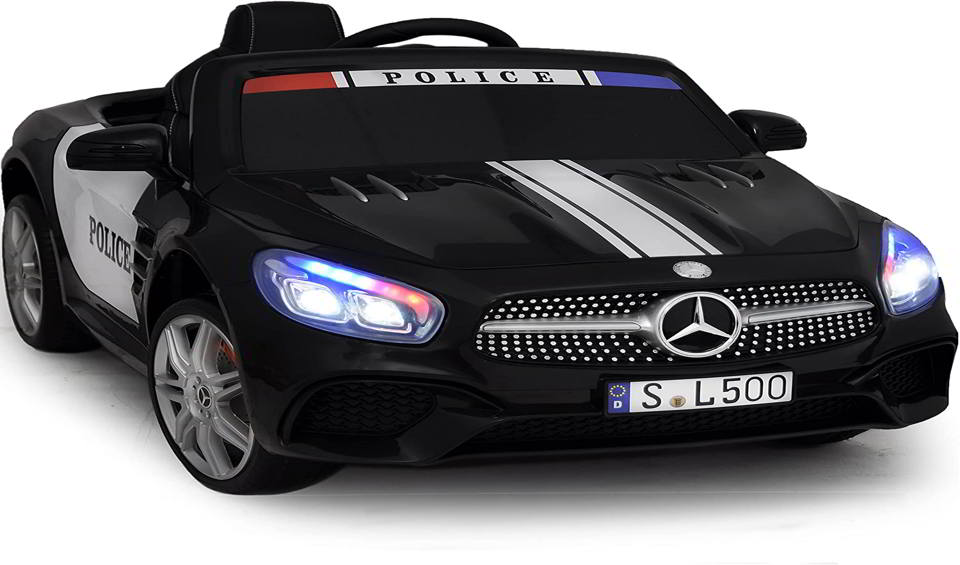 Let your toddle ride this ride on Mercedes-Benz model as he goes to catch his "law-breaking" siblings.
An open top, a cute exterior (shiny), and police-styled body make the product absolutely stylish.
Toddlers are utterly fascinated by the lights on this ride on plus the nice little multimedia system that sings for them, tells stories, or plays ABC's depending on the setting (includes volume adjustment).
The speed of this 12v ride on car can reach 3-4 mph, which is safe and reasonable for your little nephew.
For safety, there are safety belts and don't forget that you can use a remote control to steer kids to safety if they have gone astray.
The rear wheels suspension on this electric car helps ensure a smooth ride while the battery can last for hours.
Overall dimensions: 48-inches (L) x 24-inches (W) x 21-inches (H)
Maximum weight Capacity: 66lbs
Final words
Kids between ages 1 and 3 are considered toddlers and the above ride on cars can be wonderful for littles who are obsessed with police officers/police things.
Most of these have plenty of features (sirens, horns, flashing lights, etc.) that mimic real cop cars so he/she is going to have an exciting time.
One final word: Please brace yourself if you're a parent to a toddler!
Why?
While kids will love any of the above police car ride on for toddlers, you will likely hate it (it will take all his/her attention and he/she will want to play all the time!).
ALSO READ:
Best 2 seater ride on car with parental remote control [Top drawer picks]
Ride on toys for 8-10 year olds that stand out from the crowd
Power wheels for 5-10 year olds that will make your kid go gaga
Best ride on cars 24v – Pick the best 24 volt power wheels from this list
Best power wheels for 7 year old – 3 big enough cars