As an Amazon affiliate, we earn a commision from qualifying purchases.
If after in-depth comparison you have decided to buy your 10 year old an electric 4 wheeler rather than a conventional gas-powered 4 wheeler, here is some great news: There are some very good electric 4 wheelers for this age group out there these days.
And to point you in the right direction when shopping for an amazing electric 4 wheeler for 10 year old, we will review the three best picks in the market out there (from our research).
Let's dive right in:
Electric 4 wheeler for 10 year old – Your 3 best choices Reviewed
Imagine your bubbling 10 year old cruising around on an electric 4 wheeler for hours?
It's really fun for most 10 year olds and the good thing is that some of the top models can run for up to 2 hours (and sometimes longer) nowadays.
Of course, gifting him/her an electric 4 wheeler ATV or Quad means significant savings for you since you won't be buying gas every time your kiddo wants to go out riding.
So here are the 3 models that we feel stand out from the crowd in the market at the moment (admittedly, there are tons of other choices – and having more options when shopping for anything is never a bad thing).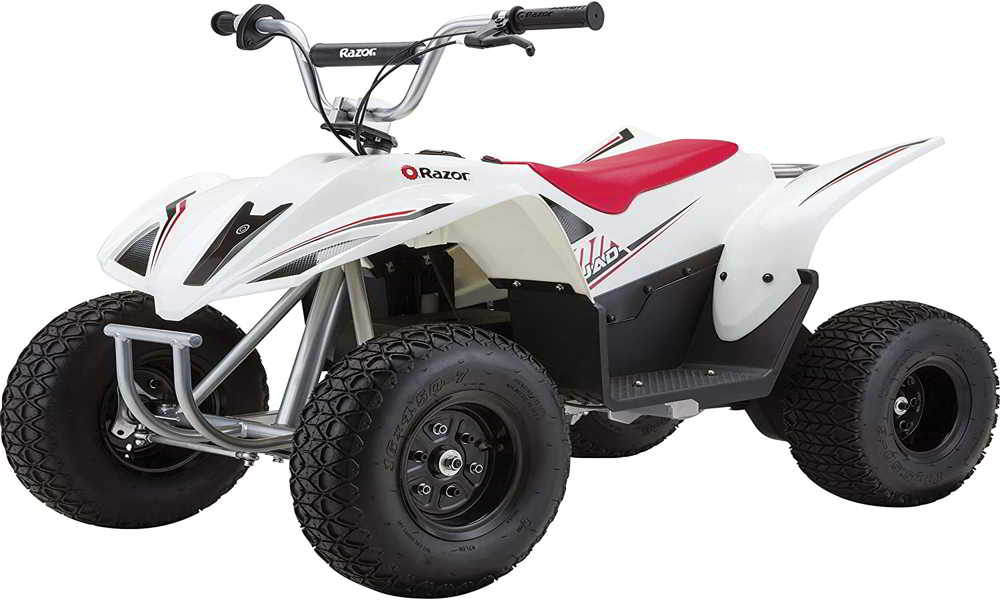 This pumped-up electric 4 wheeler for kids is quite big and with its great features, it can be a fantastic present for older riders seeking more thrill.
And yes, this 36V Quad can go decently fast (up to 9mph).
It actually rides with wonderful power thanks to the combination of the powerful 500-watt motor and the high-torque internal gear set.
The ride time is also reasonable -it runs for 68 minutes (max) nonstop on full charge.
There are a lot of nice features including twist throttle (which is good training for your kid if you want him/her to grow up riding ATVs and dirt bikes) and a rear shock that helps smoothen the ride when on a really bumpy area.
It's worth mentioning that it's designed for teens 14 years (and up) but most 10 years olds ride it without a problem and love it.
Key specs
Dimensions: 50.4 inches (L) x 28.7 inches (W) x 31.9 inches (H)
Max speed: 9 mph
Recommended age: 14 years old+
Battery: 36V (3x 12V) sealed lead acid battery (post charging)
Ride time: 68 minutes (max).
Weight limit: 220 lbs.
Others: Authentic moto-styling, larger frame, soft rubber grips, adjustable riser handlebars, rear disc brake.
Pros
Decently fast.
Very easy to assemble and fix things in case something breaks (it has very few parts).
Well built- can take a good beating.
Cons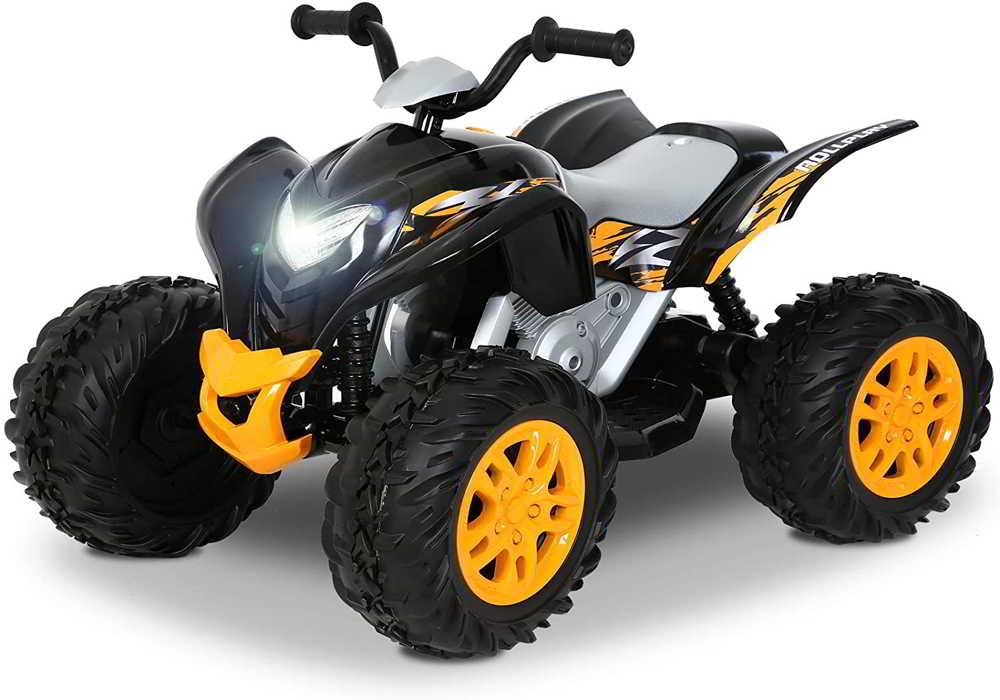 This uses just a 12v battery so it won't have the power to go over steep hills as well as the Quad 500 nor will it be as fast (max speed is 3 mph).
However, unlike its rival, it goes in reverse (at 2.5mph).
That being so, we recommend it for 10 year olds who are just coming from other ride ons such as Power wheels – the speed and power will be safe for them as they learn the ropes of 4 wheeling.
One great thing about it is that the battery can keep going for even 2 hours after charging (that's a pretty long time in the world of Electric 4 wheelers for kids).
Turning to size, it's fairly big, lifted, and wide so even an adult can hitch a ride (unless you're exceptionally big).
It seems well made and strong so you should not worry about durability.
Plus, the tires- even though plastic- tend to go over small bumps (and even grass) without spinning/ getting stuck because of the rubber tread (in the middle).
On the downside, assembly is not super easy but you'll neither take the whole day putting it together if you carefully follow the instructions (and you have the right tools).
Key specs
Dimensions: 38.97 inches (L) x 24.1 inches (W) x 23.62 inches (H)
Max speed: 3 mph (forward), 2.5mph (reverse)
Recommended age: 3-11 years old
Battery: 12V
Ride time: 120 minutes (max).
Weight limit: 77 lbs.
Others: Soft start (foot pedal start), headlight, sounds, radio, oversized wheels (with traction-enhancing rubber tire strips)
Pros
Ride time is really good.
It rides well even in grass.
Soft start.
Cons
Not suitable for kiddos weighing over 77 lbs.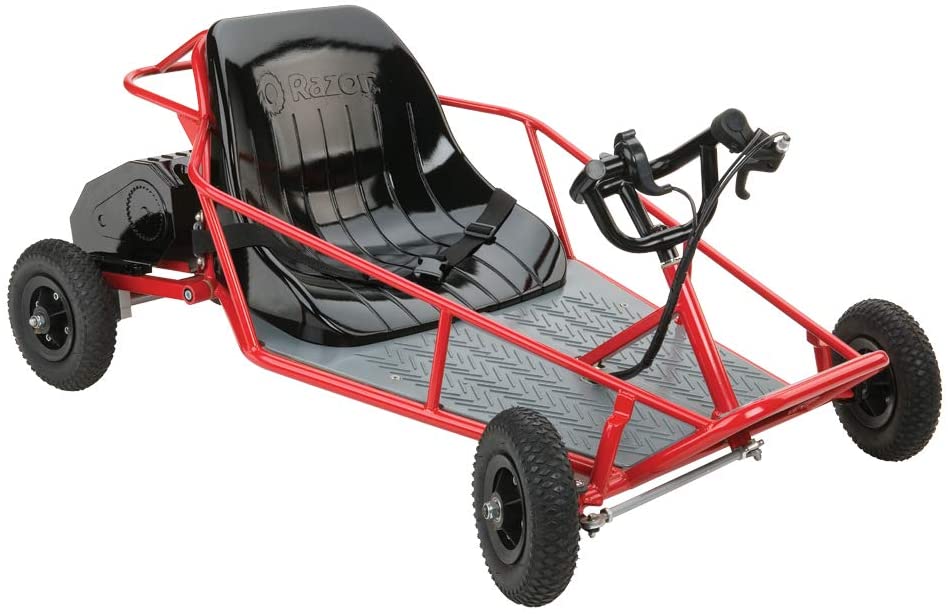 The Razor Dune buggy go cart is a good step-up for kids used to riding Power Wheels but is not as dangerous to ride as a true 4-wheeler so we recommend it for parents who are a little apprehensive about their kid's riding skills.
You will get over two hours of riding fun and it's actually fast (can go at up to 10mph).
In addition, it has good torque – it comes with a powerful 350watt electric motor- so your 10 year old son/daughter will be having a blast when they go out riding it.
Another thing we like about this electric 4 wheeler for kids is its above-average off road capabilities (it handles gravel/ grass very well and has minimum trouble climbing small hills).
There is very little assembly to do here and kids figure it out in no time (it's super easy to drive).
Sadly, it has no reverse though pulling it out of trouble and a jam is fairly easy because of its awesome maneuverability.
Key specs
Dimensions: 26.5 inches (L) x 28.5 inches (W) x 19.5 inches (H)
Max speed: 10 MPH
Recommended age: 8 years and above
Battery: 12V, 7ah
Ride time: 60 minutes (Approximate)
Weight limit: 120 lbs.
Others: Hand throttle speed control, heavy steel frame, Hand brake controls, knobby pneumatic tires (8″), Protective padding, Bucket seats (with seatbelt), Diamond plate floorboards, Vertical storage
Pros
So easy to steer and control.
Very good brakes.
Plenty of power.
Cons
What to look for when shopping for an Electric 4 wheeler for 10 year old
His/her size
Will your son/daughter fit? The answer is it will depend on how big he/she is.
So try to have an idea of his/her size then compare this with the product dimensions.
If you can, buy a product with some room to grow into.
Also check the weight cap- it can help you make the correct decision (you absolutely don't want to buy something that cannot support his/her weight)
Safety features
A good four-wheeler should have safety add-ons ideal for 10 year olds (and above).
Basically, excellent brakes are important.
Others features that come to mind here is a safety belt and a battery cover (it's important for the battery to have a cover- it will protect both the battery and your child).
Construction Quality
An electric four wheeler that is worth it needs to be well built all around– you don't want a ride on that will keep breaking down or that will not take some punishment.
Max Speed
So, how fast can he/she ride safely? This question is important too – you'd want to go for a product whose speed range is within what he/she can manage.
Otherwise, you could want some form of speed limiter included in the thing.
Maximum Ride time
Kids want to ride continuously for hours but that is not always the case with electric ride ons.
To be honest, the actual time a battery lasts is based on countless variables- the weight of your child, terrain, riding style, throttle use, and more.
To cut the long story short, any product that can give you an hour of fun with a stock battery is worth it.
Needless to say, your kid will want you to select the 4 wheeler with a battery that lasts the longest possible time.
Tires
Wide treaded tires are preferable because they grip all terrain firmly.
Unfortunately, there are not many good enough electric 4 wheelers that come with rubber tires despite everyone favoring rubber.
A powerful enough motor
The more powerful its motor, the more powerful the vehicle is.
In a nutshell, a 500 watts motor is definitely more powerful than its 350 watts peer.
Remember that the better its motor, the faster (and the better the performance of) the 'vehicle' will be.
Electric 4 wheeler for 10 year old – Frequently asked Questions
What's the fastest electric 4 wheeler?
The fastest electric 4 wheeler we have seen is 10MPH.
That said, these things can go faster with the right mods – you can upgrade the motor, battery, etc. if you're handy enough with mechanical stuff.
Final words
An electric 4 wheeler is always a great alternative to expensive gas-powered 4 wheelers.
For that reason, we have reviewed decent units for those looking for something to bridge their kids from younger children ride-ons such as power wheels on their way to real gas-powered quads.
We hope that this will help you make a good decision.
ALSO READ:
Toy cars for 11 year olds – 7 best choices (Reviews)
Ride on toys for 8-10 year olds that stand out from the crowd