As an Amazon affiliate, we earn a commision from qualifying purchases.
If your son/daughter wants a Jeep like Dad's or Mommy's but you are apprehensive of his/her driving skills making a remote a necessity, we have some great ride on Jeeps with remote control you could gift them…
It is an open secret that most Kids love Jeeps – and they will rave about riding in the Jeep to anyone who cares to listen for days.
The good thing is that some Jeeps come with a remote control (Thank goodness) that parents can use to operate jeep as smaller kids learn to drive and steer it around.
The remote simply overrides the controls (of the kid) driving the vehicle so it is very handy with younger children.
Now, if he/she wants a Jeep like Dad's or Mommy's but you are apprehensive of his/her driving skills, consider the following ride on Jeeps with remote control:
Ride on jeeps with remote control – 3 awesome Jeeps for kiddos
Below are some wonderful Jeeps for that kid who won't forget that you promised them a Jeep like yours during their last birthday..
They all come with a working remote control that allows you to operate the Jeep until he/she learns how to better control it herself/himself: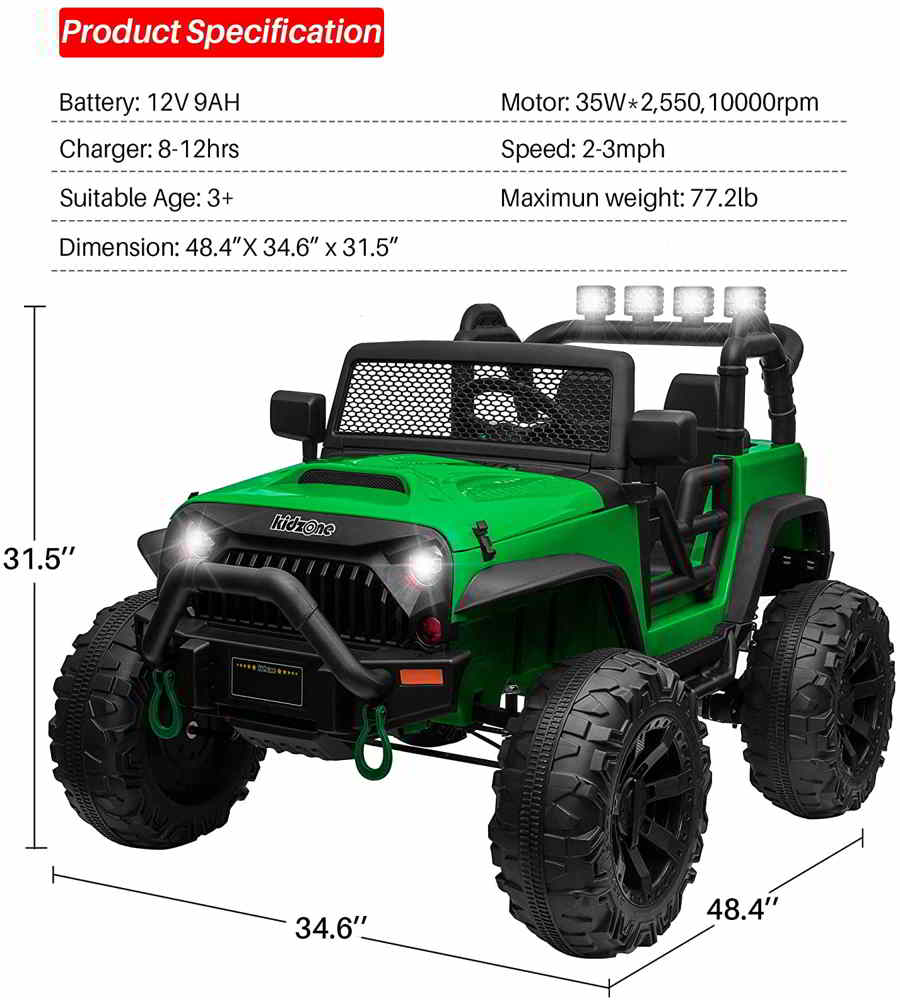 The highlights of this 12v ride on truck with remote control are the extra wide seat, DIY license plate, oversized off road wheels, realistic LED lights, Bluetooth music (for extra entertainment as he drives), and 2 speeds.
Here is what you need to know about the 2 different speed options: The high speed is reasonably fast (you'll likely need to jog a little to keep up) while the mid speed is a perfect walking speed.
Just so you know, the remote has a great range- and super responsive and quick so he/she won't crash into everything.
The only thing we didn't like about this 12v ride on jeep 2 seater is the instructions- They really should have written them better to make assembly less of a pain.
Key specs
Battery: Premium 12V, 9AH rechargeable battery (with smart battery technology to prevent overcharging).
Motor: Two 35W motors (10000rpm)
Estimated riding time: Up to 40 minutes.
Wheels: Rugged 14-inch off-road-styled tires.
Speed range: 1.8mph- 3mph
Size: 48.4″(Length) x 34.6″(Width) x 31.5″(Height)
Others: Elevated suspension, floodlights, headlights, rearview mirrors, extra-wide seat to allow big kids ride (with adjustable seatbelts), door lock (for safety), MP3 player (USB + AUX+Bluetooth)
Weight limit: 77 lbs.
Recommended age: 3-8 years.
Pros
Rides great on grass, dirt, rocks, and more.
It's so cute!
Excellent  Bluetooth feature
Cons
A bit of a hassle to put together.
Ride On Jeep 2 Seater By Moderno Kids– Best 12v ride on Jeep with remote control /best 2 seater ride on jeep with parental remote control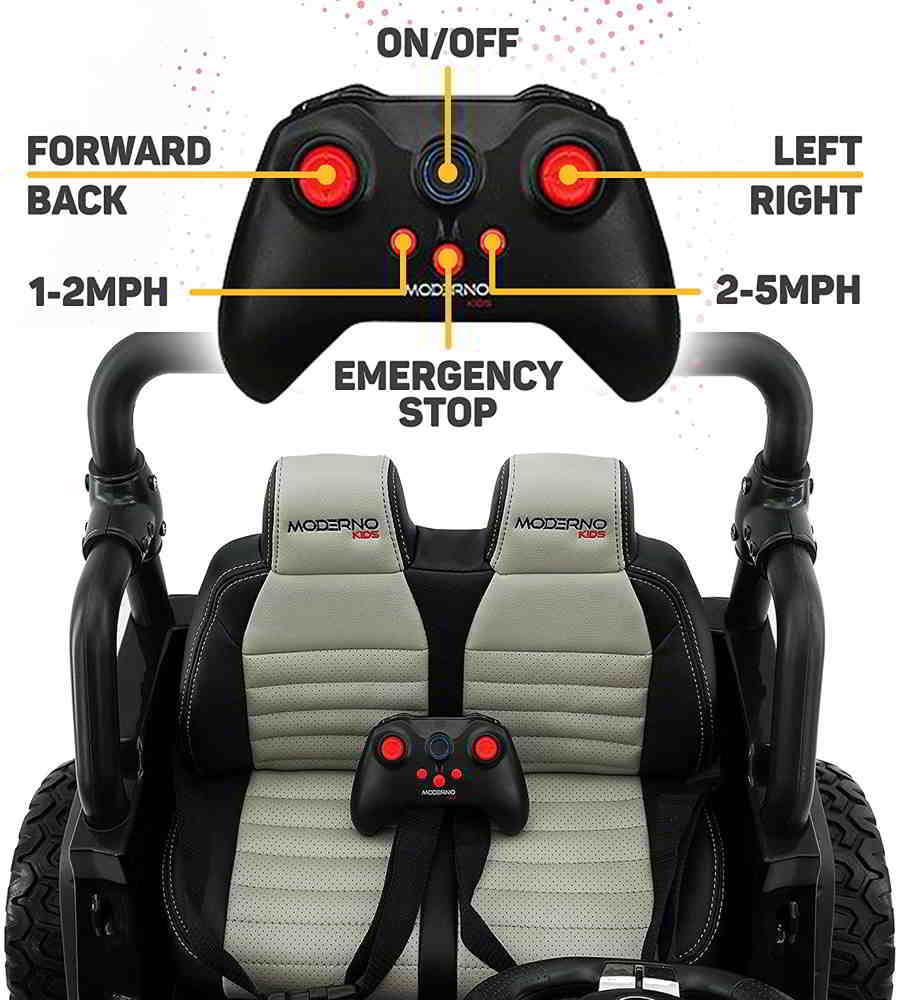 If your young child loves to ride a Jeep but he/she has not yet mastered the coordination (with pedal/steering wheel), consider this 2 seater remote control ride on jeep..
We love the cool color choices and everything works smoothly including the stereo/Bluetooth function (The remote especially works well on this ride on car with parental remote control).
The tires are good -They are not pure rubber but EVA Foam tires are naturally 'rubbery' for traction and reduced noise.
The power is also better than with other many ride on Jeeps with remote control – it is certainly powerful enough to easily handle even a yard that is a bit steep.
Plus, the 2 wheel drive Jeep has some pretty cool sounds when it is starting it up and it comes with nice seat belts so your grandson/daughter will have a more realistic behind-the-wheels experience with it.
It's designed to be a 2-Seater unless your child is on the bigger side- there's a big-enough room for two small children to ride together.
In short, this is pretty nice though a bit expensive.
Key specs
Battery: 12V, 12Ah (easily swappable and with overcharge/overdischarge/overload protection).
Motor: Two Custom 775 Motors
Estimated riding time: up to 60 -90 minutes.
Wheels: EVA Rubber Tires(Foam)
Speed range: 2-5 MPH (2 forward speeds+ 1 reverse on remote, 2 forward speeds on manual driving mode)
Size: 47″(Length) x 31″(Width) x 30.5″(Height)
Others: Soft start, electric braking, spring shock absorbers (front and rear), underbody LED light kit (Pre-installed), wide track soft EVA foam-rubber tires, MP3 music player (includes Bluetooth FM Radio), battery life display, safety seat belt (on the 2 PU leather seats), horn sound buttons(on steering wheel), handlebar (under the rear bumper for easier transport), openable doors+hood.
Weight limit: 100 lbs.
Recommended age:  Max. 4 years (if two kids are riding) and 3-6 years old (for a single rider)
Pros
Very durable.
More powerful.
The seat can be adjusted for size
Cons
The music is not that loud in this Jeep power wheels with remote .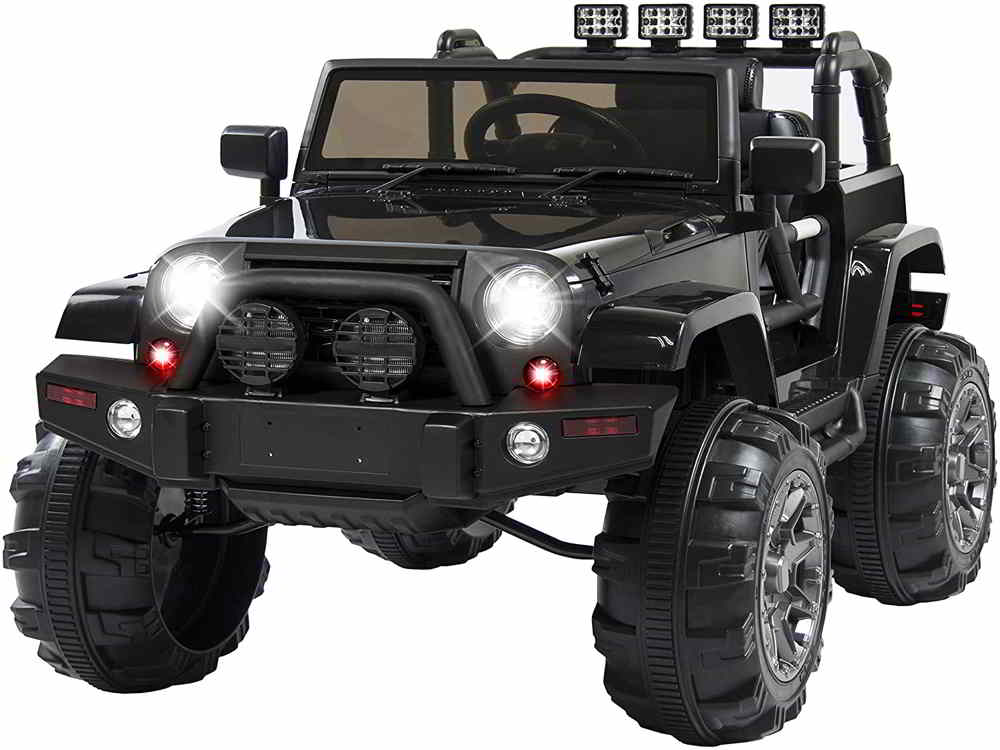 Our number one choice, best choice 12v jeep is just a blast for kiddos looking for a realistic driving experience while riding a Jeep.
From compact controls (controls have been sized for petite hands) to a long-running 12V battery (it can run for 2 hours max. when fully charged), you'll love everything about this best choice ride on Jeep 1 seater.
Most importantly, the remote is amazing – you can actually control the Jeep from as far as 20 yards away when he/she (and the co-driver) gets distracted by something.
It's better quality overall, tough, and definitely built to last.
Oh, and it is super fun for kids (kids particularly enjoy turning the lights on/off and listening to the radio).
Besides, the toy does everything you'd want- from turning easily with/without the remote to braking fast.
Key specs
Battery: 12V,9AH battery
Motor: Two Motors (on the rear), typically 3000-5000rpm
Estimated riding time: Up to 120 minutes.
Wheels: Plastic.
Speed range: Max 3.7mph (3 speeds on remote)
Size: 46″(Length) x 29.5″(Width) x 31″(Height)
Others: working LED headlights, safety belts, spring suspensions, built-in Bluetooth speakers, auxiliary port (for MP3 & USB), working radio, horn, interior/exterior lights.
Weight limit: 128 lbs.
Recommended age:  3+ years
Pros
Easy to assemble
Battery lasts long
It goes VROOM! VROOM! when it is starting up!
Cons
Wish it had more Torque on grass.
ALSO READ: Power wheels buying guide (All about buying power wheels)
Wrap up
Overall, if you have younger kids that can't yet drive themselves and you want him/her to try out a Ride on Jeep, the above Jeeps can be truly fun.
The remote controls with these power wheels Jeeps all function smoothly and will ensure you get peace of mind as your kids learn how to drive these Jeep ride ons.
Who wanna go ride inna Jeep?
ALSO READ:
Ride on police car for toddlers (4 best picks)
Looking for Electric cars for 14 year olds? Read this
Ride on toys for 8-10 year olds that stand out from the crowd