As an Amazon affiliate, we earn a commision from qualifying purchases.
Kids grow up pretty fast and in the process outgrow their electric cars.
For that reason, if your kiddo is now 12 years and still obsessed with the electric cars, you may want to go for something bigger to fit him/her (and a car that is probably faster).
Which brings me to electric cars for 12 year olds to drive – browse the picks we have made for you below and surprise your 12 year old boy or girl with a ride on car that will keep the fun going and going.
Electric cars for 12 year olds to drive [Our best picks]
If your kiddo can't get enough of ride on cars and he is now a young teen, here are the electric cars for older kids that he/she is likely to fall in love with: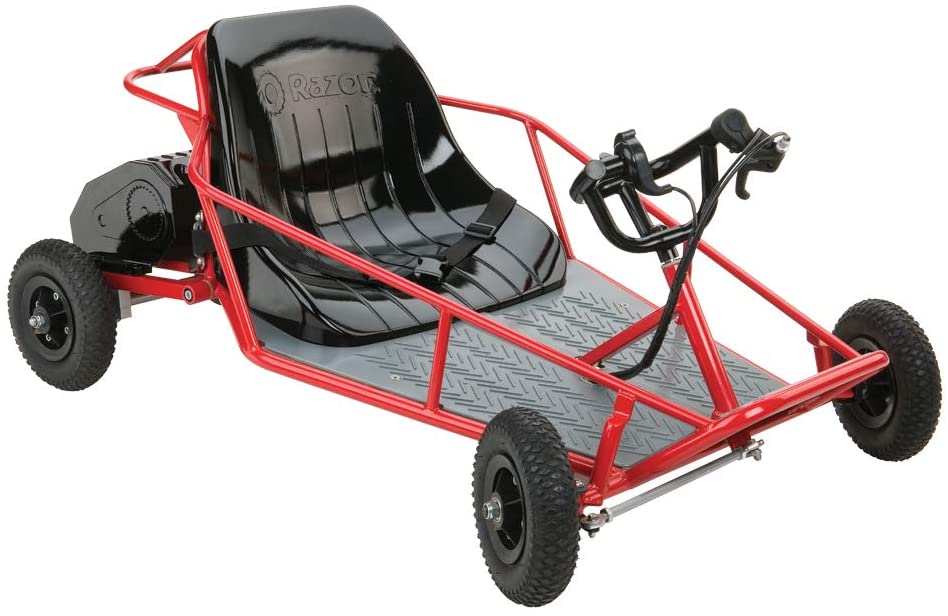 First up on our list of electric cars for 12 year olds to drive is the vintage-cool Razor dune buggy..
With this power wheels for 12 year olds, your son/daughter will get plenty of buggy thrills thanks to its fast speed (it's noticeably faster) and awesome torque.
The features of the updated dune buggy include a bucket seat, knobby tires, diamond plate floorboard, and terrain following suspension.
Oh, and this electric powered go-kart comes nearly fully assembled.
You simply need to put on the flag, attach the throttle, check the tire pressure, and plug it in to charge it.
Out there, it's amazing and you can even upgrade the battery (and ECS) once your kid needs even more speed!
Specs
Recommended ages: 8+
Weight limit: 120-pound
Max speed: 10 MPH
Motor: 350 watt
Tires: 8" knobby pneumatic tires
Seats: Bucket seats (with seatbelt)
Runtime: Up to 40 minutes
Frame construction: Powder coated finish (on tubular-steel frame)
Others: Protective padding, Diamond plate floorboards, Hand throttle (and brake controls), Rear disc brake, Safety flag, Vertical storage
Pros
Incredibly simple design
Remarkably quick
The workmanship seems perfect.
Cons
This is not a drifting power wheels style Kart.
This great ATV can be a sensible choice for your 12 year old after Power Wheels- it's an ATV Quad specifically built for older kids who really enjoy off-road play.
To be honest, this super off-roader is one of the most amazing 4wd electric dirt quads for kids we have ever seen – we think it can compete with an adult-size ATV quad like a champ!
Big  tires (with soft rubber grips),  twist-grip throttle control, rear disc brake, rear suspension, and adjustable riser handlebars are just some of the nice features included in this quad.
Get ready for action-packed adventure with this fun motorized vehicle thanks to the 500-watt electric motor (with high-torque gear set) and its remarkable acceleration ability-it reaches a high speed of 9mph (max) so this electric quad is noticeably fast.
It's for kids  aged 14 years and above but it is loved by even kiddos as young as 10 years (max weight limit is 220lbs).
Specs
Recommended ages: 14+ (but safe and fun for kids from 10 years old)
Weight limit: 220-pounds
Max speed: 9 MPH
Battery: 36V (three 12-V) sealed lead acid battery (with quick-change compartment)
Runtime: up to 68 minutes (at a time)
Motors: 500 watts
Tires : pneumatic (soft rubber grips) on steel wheels
Others: Variable-speed twist-grip throttle, rear disc brake , rear suspension , adjustable riser-style handlebars, shatter-resistant plastic fairings, powder-coated tubular steel frame, front brush bar, rear carry handle, space-saving vertical storage
Pros
Solid tires
Fantastic suspension action
Decent weight which gives it stable control
Cons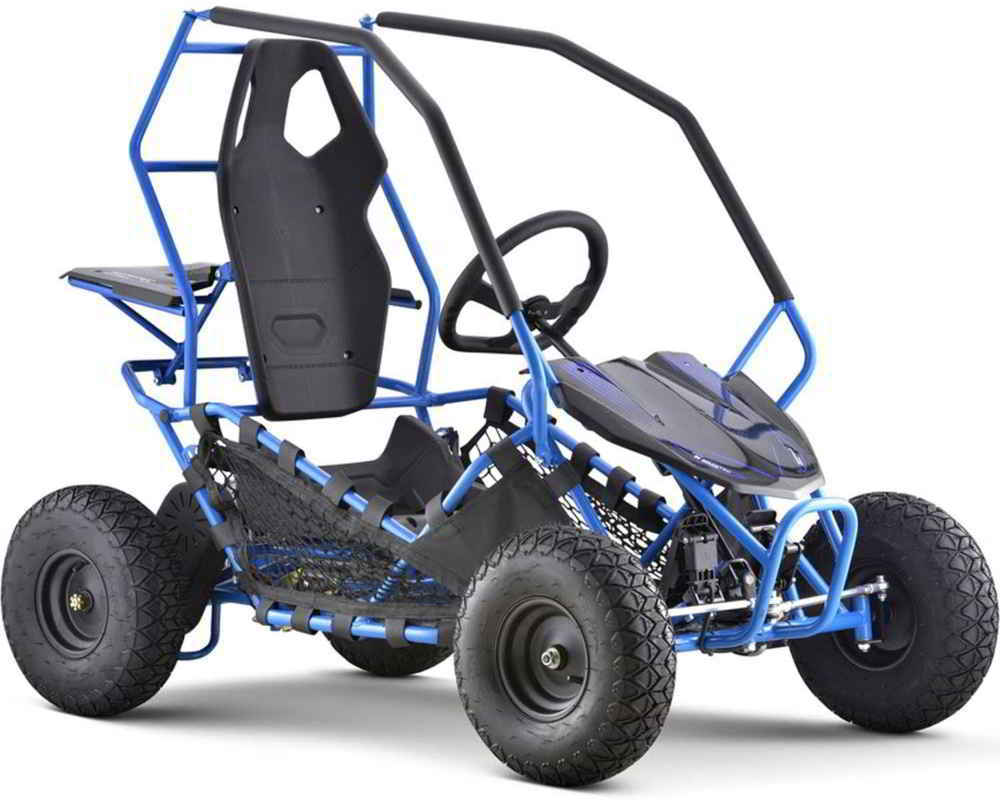 This features a p0werful 36-volt 1000w brushless motor, full-roll cage safety bars, positraction', hydraulic rear brake, seat-belt, and most importantly, turf safe tires (to help save your grass).
This go-kart is super rugged so it lasts.
Other nice features include: battery meter, key start, forward and reverse, and three adjustable speeds.
Overall, it's surely one of the best ride on cars for 12 year olds.
Specs
Motor: 1000Watt
Battery: 36 Volt (BRUSHLESS) -Three 12-volts,12mah Lead Acid batteries
Runtime: up to 40 minutes (per charge)
Speeds: 10mph, 15mph (and 20mph when optional plug is dis-connected)
Reverse: Yes
Charge time: 4 – 5 hours
Weight limit: 154lbs
Tires:14×4.00-6(6205-2z Bearing Size)
Frame: High-Tensile Steel Tubular
Throttle: Foot pedal
Transmission: Chain Drive
Parking brake: Yes
Brake: Foot-operated Hydraulic Rear Disc
Safety Features: Full Roll Bar, Seat Belt, Netting, and Full chain guard
Pros
Very well built.
Spacious enough for taller 12 year olds.
Looks cute.
Cons
Not as fast as the popular Legend RC Car.
Electric cars for 12 year olds to drive – other alternatives
12 year olds also find scooters  and electric-powered motocross bikes fun so you can also consider the following products:
Segway Ninebot Electric Kick Scooter– This scooter can reach a Max Speed of 18.6MPH and it is extremely portable (it is foldable). Try it if your 12 year old likes scooters.
Razor Dirt Rocket Motocross Electric Off-Road Bike– This 24v dirt bike can also be great for adventurous 12 year olds. Key features include adjustable-angle, spoked wheels (with 12-inches pneumatic, knobby tires), riser-style handlebars, retractable kickstand, and a hand-operated rear brake
Final words
With regards to electric ride on vehicles in general, usually the maximum age is approximately 8 years old.
So if you're looking for a good ride for your older child, we recommend that you expand your options to e-bikes and e-scooters (you can start with the scooter and dirt bike we have listed above).
We hope this helps!
ALSO READ:
Power wheels buying guide: All about buying power wheels
Best ride on cars 24v – Pick the best 24 volt power wheels from this list
Best power wheels for 7 year old – 3 big enough cars
Power wheels for 8 year olds [3 great picks]
Best 2 seater ride on car with parental remote control [our top picks]
Trailer for power wheels truck – Your best options