As an Amazon affiliate, we earn a commision from qualifying purchases.
Looking for a power wheels 12v battery alternative? You have come to the right place
Power wheels battery are insanely expensive to replace- never mind that they do not last that long (their average lifespan is 3-5 years, at best).
Plus, some OEM Power Wheels batteries do not keep charge long enough – and your kiddo's fun day is often cut short before he/she gets enough of the toy (unless you tend to carry a spare battery).
So, is there a more permanent way of replacing your son's/daughter's constantly dying power wheels battery?
Well, YES- and there are several solutions especially if you don't mind making a few modifications.
Below we review some of the best power wheels 12v battery alternatives to point you in the right direction..
What we love most is that these battery upgrades typically come at a discount (they are way cheaper than OEM 12v power wheels battery).
Power wheels 12v battery alternatives (3 amazing alternatives reviewed)
Here are your best bets if you are looking for a power wheels 12v battery alternative that keeps going and going (we will mention the modifications needed, where necessary):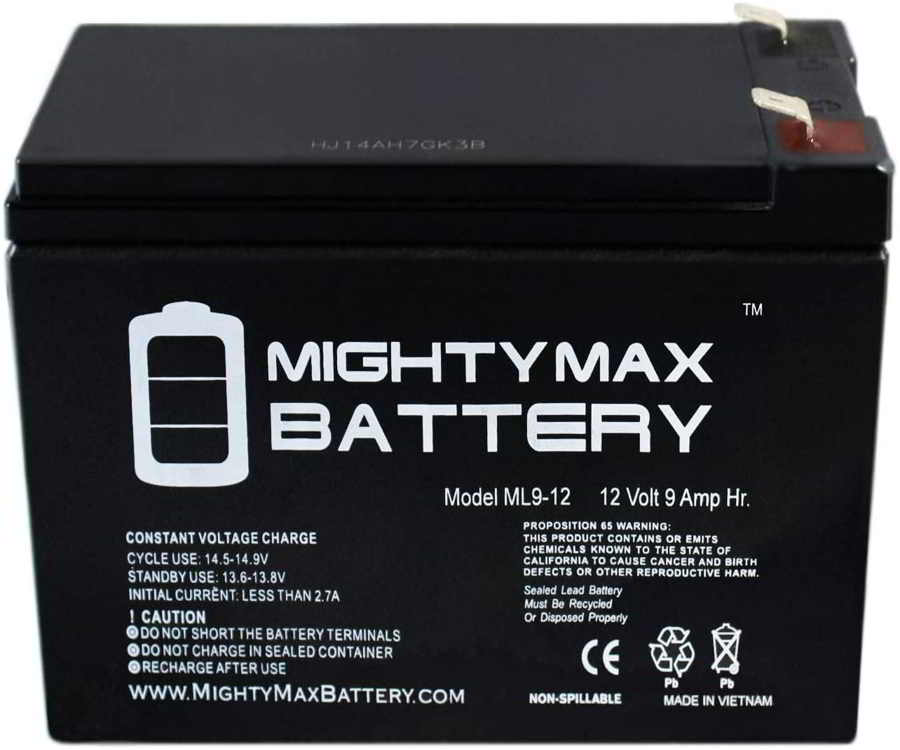 This definitely works better than original power wheels battery and comes at less than half the price!
In short, this is Win-Win!
Obviously, it's not designed for a power wheels so, on your power wheels, you may need to cut a bit of plastic off the engine bay for it to fit.
You then wire up your power wheels connecter with a fuse.
Once you have modified it to fit, your child will enjoy noticeably more power and extended run time (Capacity is 12amp hours).
In addition, it could last 3x as long as a regular 12v power wheels replacement battery.
Here now are some of the power wheels that are known to already work with this:
Red Mustang Power Wheels
Peg Perego Kiddos ATV
Kid Trax power wheels
Keep in mind that it works with countless other kids ride on cars.
Other important points you should know about this power wheels 12v battery alternative
If you have a Peg Perego kids ATV and you want to keep costs down, you can use 2 Mighty Max ML12-12 12 Volt batteries as an outright replacement for the factory 24volts battery (the cost will be less than half).
You can also purchase two of the batteries if you want to upgrade your child's PowerWheels Lightning McQueen from 6 volts to 12 volts (battery modification is one way of making it go absolutely faster).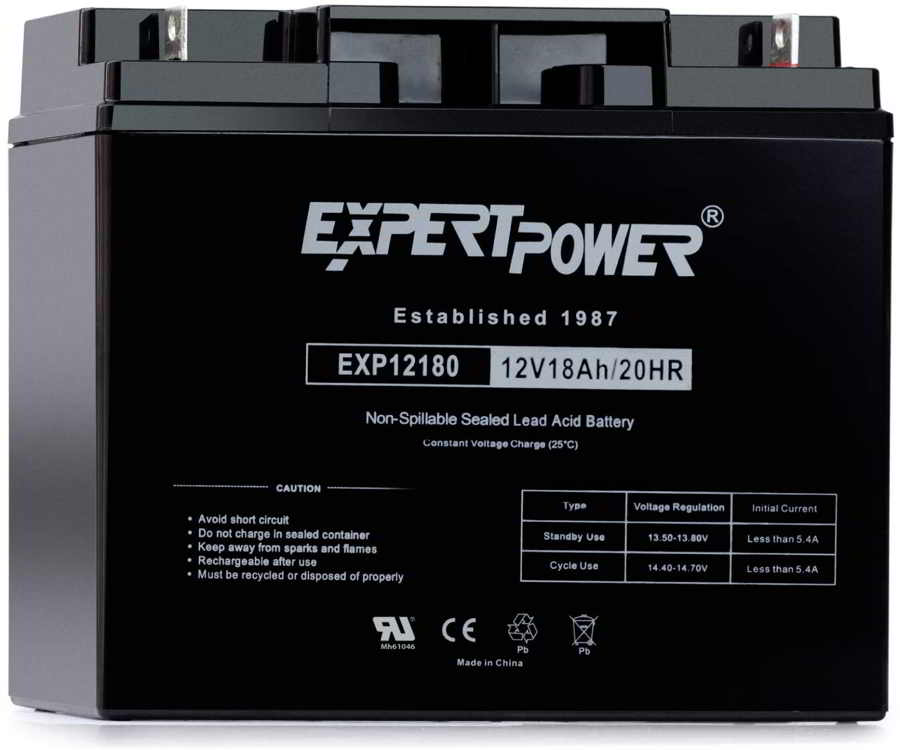 Many parents use these 12 volts batteries on their kids power wheels without any issue so it can be an excellent option if you're looking to replace your child's dying stock battery.
More importantly, these batteries have a remarkably longer fun time (this is 18amp hours while the previous one is 12ah so it outlasts it).
Of course, it was never intended for power wheels so some workarounds may be necessary.
What you need to keep in mind is that while they may fit perfectly for power wheels such as Jeep wrangler, you may need to do a little trimming on others (including Porsche 911) for it to go in.
Just so that you know, this battery has already been tried with these 12 volt battery powered ride on vehicles (and it works like a champ):
Power wheels jeep hurricane
Best Choice Products Ride on Jeep – it fits nicely in the second battery compartment (opposite where the OEM battery is usually installed).
Kid Trax mini Cooper.
Power wheels escalade.
Peg Perego John Deere 12v tractor (Go for this if you are looking for a Peg Perego 12v battery alternative that won't disappoint)
Pacific Cycle Convertible Sports Car (no need for modifications here)
Barbie powerwheels Jeep
Kid Trax Dodge Ram 3500
Kia soul ride on toy car
RollPlay Silverado
Arctic Cat all-terrain utility vehicle
Cat dump truck power wheels
More insights about using this alternative 12 volt battery for power wheels
You can harvest the harness (with fuse) from your previous battery to use with this battery. Otherwise, you need to purchase a wiring harness connector.
You may consider buying at least a 30amp fuse (along with the battery) – the original ones come with a thermal fuse built in for extra protection (that is not necessary if you'll be buying the above connector or this as it has a 40amp fuse built in).
You can keep the battery maintained with a trickle charger- that way, the battery will be always ready to go!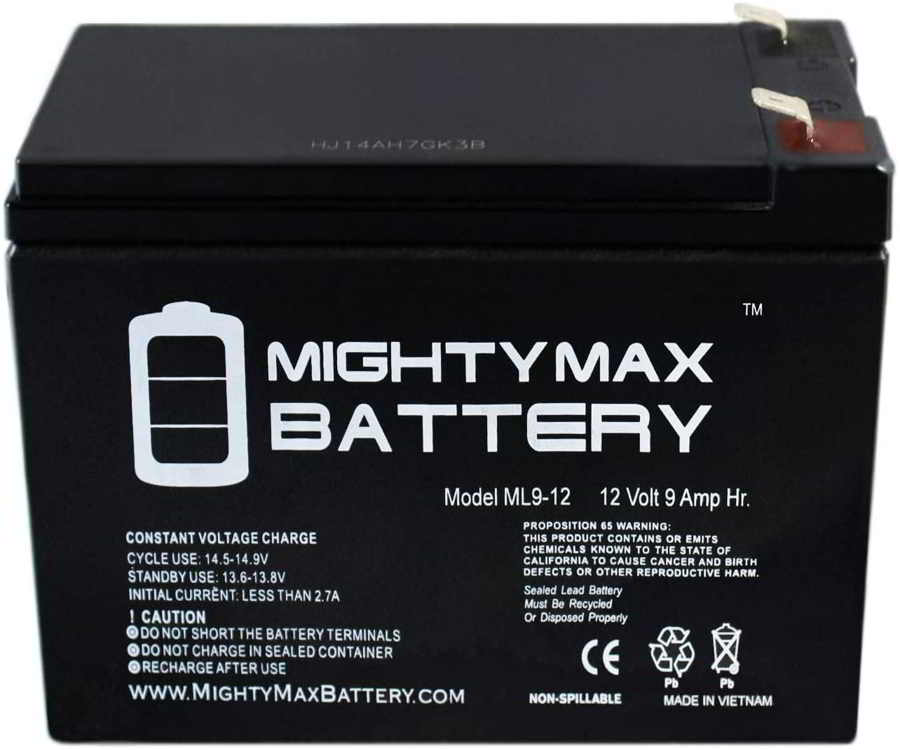 This is a super cheap alternative to the ridiculously-overpriced OEM battery (It is from the Mighty Max battery brand too but unlike our first choice, this is 9Ah model).
Here is what you typically need to do to use it in your kids ride on car:
Remove the top off the old battery.
Next, get the terminal clip out of your older battery (the terminals are F2 so you can't install the battery directly).
Add a 30 amp inline fuse on the +ve side for extra safety.
Now install the battery.
Now, this great little compact ride on car 12v battery alternative works on the following toy cars (to list but a few):
Power wheel jeep
Power wheel  dune racer
Best Choice Jeep power wheel (it is a direct replacement)
Peg perego vehicles
Fisher price hot wheels racer
A word on charging this power wheels 12v battery substitute
To charge this sealed lead-acid type- and to keep it on trickle charge- you can use any conventional car battery charger that can charge a 12-volt battery.
That being so, the AXTRA auto battery charger can be a good one. A battery tender can be another fantastic alternative.
Your old charger also works (in some cases) as long as you adapt your old charger's charging harness to connect to the battery.
Other good options
There are other 12 volts batteries that you can use with any power wheels ride ons as long as that the power wheels is 12vdc .
You can take a look at the following 12 volts batteries if you'd like to explore your options a bit further:
Frequently asked questions (FAQs)
Can you use any 12v battery power wheels?
So, can you use any 12 volt battery in a power wheels?
The answer is YES. For most power wheels, any 12 V battery can be used- and all you have to do is perform a few modifications on the car to fit.
In fact, with the SafeAMP Wire Harness Connector (40-AMP fuse already installed), you can quickly connect any standard 12-Volts SLA battery to a Power Wheels vehicle.
Final words
With these batteries, you don't have a good enough reason to stick with the grossly overpriced Power Wheels branded battery while you can switch over to generic ones at a fraction of the price.
Remember that with the SafeAMP Wire Harness Connector (40-AMP fuse already installed), you can quickly connect any standard 12-Volts SLA battery to a Power Wheels vehicle.
Over to you.
ALSO READ:
How to tell if power wheels battery is charging
How long do power wheels battery last?
How to charge a power wheels battery –Frequently asked questions [FAQs]
Power wheels with parental remote (best picks reviewed)
Power wheels problems solutions – how to troubleshoot a power wheels