As an Amazon affiliate, we earn a commision from qualifying purchases.
If your 2 kids (or grandkids) are inseparable but you don't quite trust their driving skills (or they like pulling dangerous stunts), a nice gift to light up their eyes this upcoming holiday could be the best 2 seater ride on car with parental remote control.
It will be life changing for the 2 littles –because they can ride together- while for you, the remote control means peace of mind since you can stop them from driving into trouble.
So whether you are shopping for a power wheels gift for your beautiful twins or just youngsters who are great buddies, the power wheels below will bring them joy as they cruise around the neighborhood in style.
Make your pick..
Best 2 seater ride on car with parental remote control / best 2 seater power wheels with remote control– best picks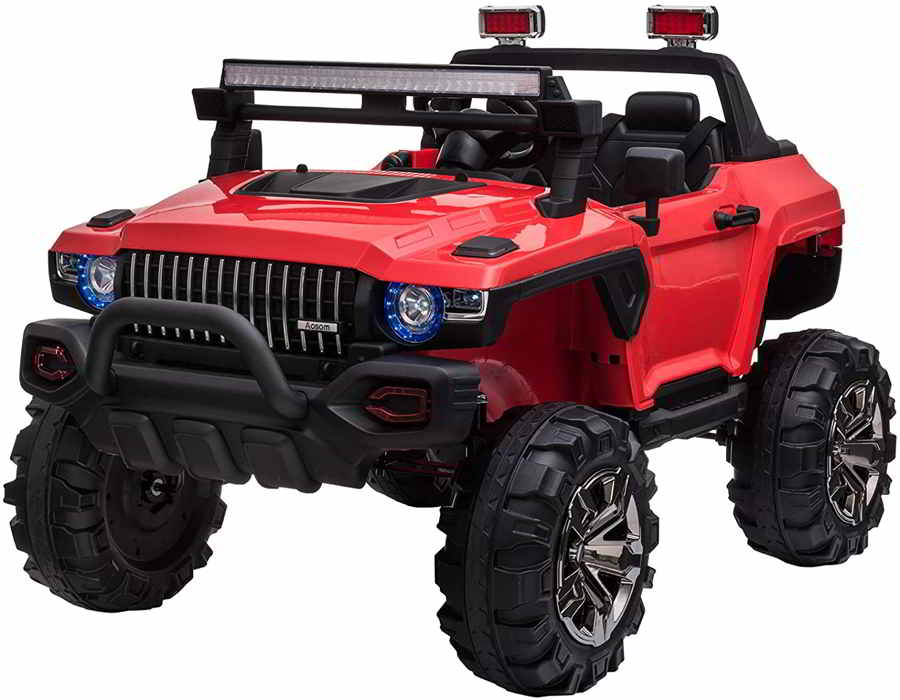 This police 2 seater ride on truck is the perfect gift if your son and his best friend are really passionate about off-roading and you want to give them a treat they will remember long after the holidays are gone.
There is a powerful 12 Volts twin motor to keep it going and going so they will be having a time of their lives each time they go out.
There are two things that make this a beast off-road: The super cool suspension –with great shocks- and the aggressive off-road-styled tires (on custom built wheels).
The radio has dozens of nice songs to keep the two siblings entertained and the lighting is excellent too- they will love everything from the high quality LED headlights, light up gauges, light up bar to the taillights.
Besides, the realistic steering wheel, gas foot pedal, and forward-reverse gears will offer your two fun makers an unforgettable driving experience.
You will find the car's remote control super easy to use too when you want to take control (and save them from trouble).
Overall, it drives amazingly on gravel, sidewalks, up the hills (whether on grass, streets, and gravel), and over the grass (and it offers a good speed).
Key specifications
Color: Red
Overall Dimensions:25 x 33.75  x 33.5  inches (LxWxH)
Material: Plastic, metal
Seat Size:75 x 8 x 12.25 inches (WxDxH)
Weight limit: 110 lbs.
Speed range:9-3.2mph
Battery: 12V (7AH) x 1
Motor: 45W (x 2)
Charger: 12V (1000Ma)
Age limit: 3-8 years
Pros
The 2 seats (with safety belts) are wide enough for 2 kids.
Good quality remote control.
Fairly easy to assemble.
Cons
A siren plus emergency lights missing (these would have made it a 'complete' police truck)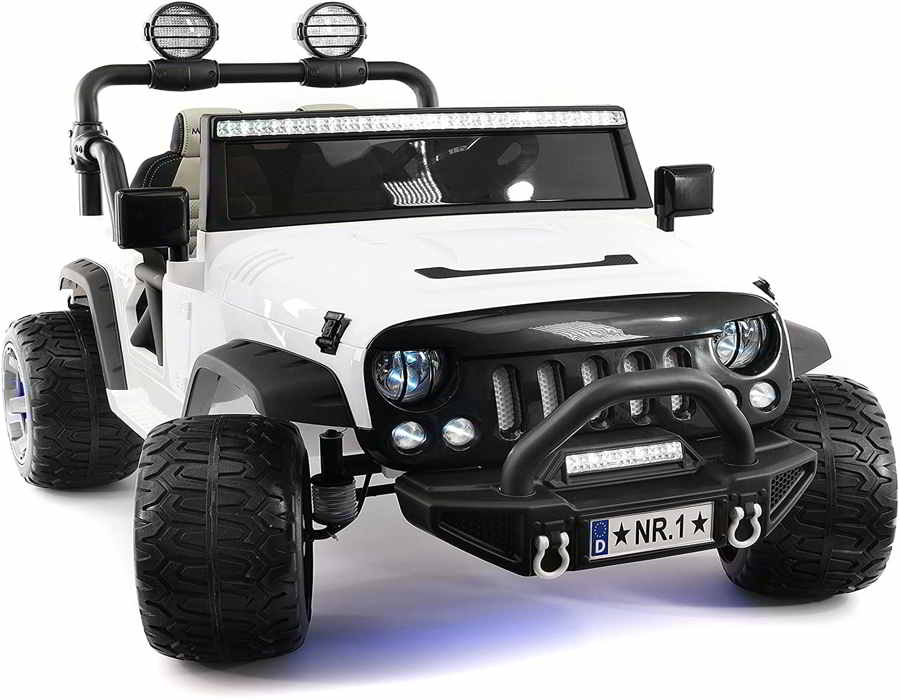 You can wow your kids with this jeep this Christmas (and finally have them crown you the best mom on the planet!).
There is a lot that makes this 2 seater ride on car with remote control the real deal- lots of ground clearance, very good tires (not rubber yes but very well made nevertheless), a wonderful battery (it can last for even 5+ hours per charge on slow speed), and very powerful motors (one on each back wheel).
And because the motor powering the rear wheels are truly powerful, the product rides over noticeably steep gravel inclines pretty well.
On speed, this can hit 5mph which is plenty fast.
There are also nice little shocks to make your bumpy grassy fields/terrain more bearable.
The leather seats are brilliant- they adjust for size and (listen to this..) appear better made than leather seats in some actual cars!.
And there are extra additions that you and your kiddos will treasure.
We especially find the lights great (they are surprisingly bright) while the music programming is very impressive.
And oh, the thing is definitely a beauty!
Long story short? This should be well worth it (it is not cheap).
Key specifications
Age limit: 2-6 years old
Maximum combined riders weight limit: 100 lb
Battery: 12V Battery (with overload protection)- digital battery on-screen voltage meter added
Motors: 2 powerful motors
Speed: 2 Forward Speeds, 1 Reverse Speed (Maximum Speed is 2-5 Mph)
Remote control:4Ghz Remote Control (with a remote STOP function)
Others: Soft start, electric brake system (for reliable braking and gradual acceleration), Front and back spring shock absorbers
Assembled Dimensions: Length- 47 inches, Height – 30.5 inches, Width – 31 inches (With Wheels).
Seat Width:5 inches, Seat Depth – 7.5 inches
Pros
Heavy and relatively durable.
Has 3 speeds (max is 5mph).
Battery lasts significantly longer.
Cons
A bit of a challenge to assemble (but the added Video should be helpful)
The price is a little expensive.
Pro Tip: A nice alternative to the above 2 seater ride on car 12v is the best choice 2 seater jeep (The four wheel drive  2 seater kids electric car has excellent traction thanks to the rubber grips that go around the middle of the entire wheel).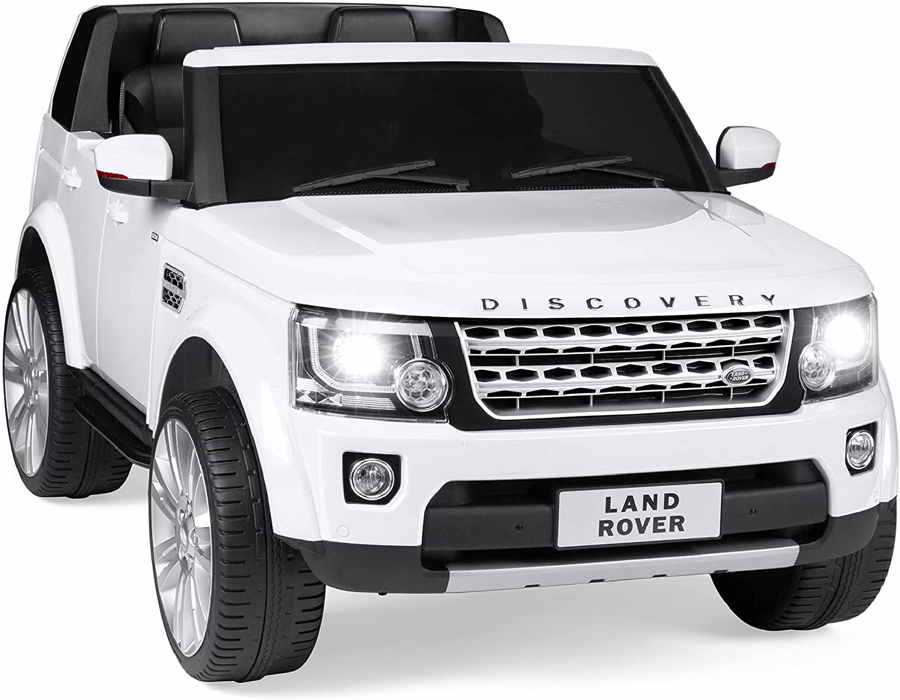 If your kids have been admiring the land loves their cousins ride, this could be an awesome choice.
It is very easy to ride -the steering turns the wheels very easily (Note that it has steering controls plus a park mode).
It rides perfectly (It is a little slow to accelerate but that is what you would probably want for your little ones) and the battery life is good (It can play for about 1 ½ hours).
The two rear wheels have individual motors and both motors kick in extra power to make it go again when it gets stuck.
The doors open – there's a sliding latch on the door (inside) that slides to open doors- and they can listen to Bluetooth radio too (They can also connect their favorite music to it via aux port).
The other highlights are 3 speed settings and lights (The head lights & tail lights are real –and quite bright-  and not just stickers like most toy vehicles like this).
The big storage compartment (under the hood) and parental remote control also come in handy (The remote works flawlessly).
The adorable two seater ride on car with parental remote control is very well built and super easy to assemble.
An outstanding choice for wannabe drives as young as 3 years, this 2 seater ride on car with parental remote control will keep the pair laughing-and learning-until they become good drivers.
Key specifications
Overall Dimensions:25 x 34  x 26  inches (LxWxH)
Material: Plastic, Metal
Seat Size:5 x 7.5 x 11.75 inches (WxDxH)
Weight limit: 128 lbs.
Speed range:8-3.7mph
Battery: Rechargeable SLA (12V 7Ah)
Charger: DC 12V
Electric Motor: Double Drive (12V)
Age limit: 3-8 years
Pros
Very quiet thanks to the rubber strip on the tires.
The lights are remarkably bright.
Has a remaining battery voltage indicator on the display.
Cons
Kids who love speed may find it a bit slow.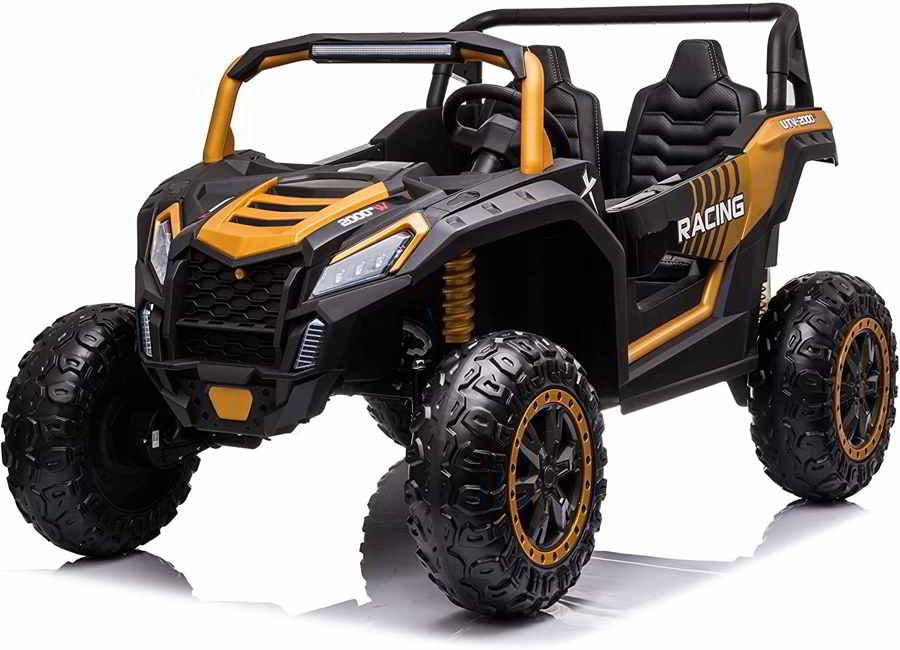 This 2 seater ride on car 24v should top your wishlist if your small ones are happy to zip around at breakneck speed.
It goes way faster than usual thanks to the powerful 24v voltage (up to 5.6 mph depending on factors such as the weight of your 2 riders and terrain.
Plus, with the 200 W ultra powerful motors (4Pcs X 54W motors), this toy UTV has no match when it comes to driving up hills, on mud, and challenging surfaces (in general).
That said, this 4×4 truck oozes class and serves up thrilling performances when driven on home yards, sandy grounds, and grass as well.
More practically, it comes with 2 sophisticated shock absorber springs to provide your kiddos support and a thoroughly comfortable experience at all times.
Everything else needed to spice up your kiddos driving experience is there- Openable doors, bright headlights & taillights, a functional dashboard, spacious driver room, start-up engine sounds, working horn sounds, built-in songs, Bluetooth function, TF card slot, AUX & USB port.
Keep in mind that this 2 seater power wheels 24v with parental remote control is best suited to elder kids (or teens) whose combined weight won't exceed 220lbs due to its fast speed and extra-large space.
As for little children, it is recommended they drive it with an adult controlling it with the remote control (or he/she can ride it with you onboard).
Key specifications
Overall Dimensions:97×36.22×30.7 inches (LxWxH)
Material: Metal, PP Plastic, EVA
Seat: 4 inches Width 3 levels adjustable 2 Seater
Weight limit: 220lbs
Speed range:  3.7-5.6mph speed without soft start
Battery: 24V (10Ah) Rechargeable Battery
Motor: 4Pcs x 54W motors
Age limit: 6+
Wheels: 15" EVA driving wheels (with bearing)
Pros
Very, very spacious.
Magnificent in appearance.
Excellent wheels.
Cons
Final words
We highly recommend the above products if you are shopping for the best 2 seater ride on car with parental remote control.
Pick your favorite and surprise your boys and girls next time you wanna gift them something that will live long in their memories.
ALSO READ:
Ride on car remote control not working [Fixed]
How long to charge power wheels battery
Power wheels dune racer battery upgrade – How I did it
Power wheel dune racer battery -3 best picks
Power wheels dune racer vs extreme -which is the better buy?
Power wheels 12v battery alternative [3 great alternatives]
How to tell if power wheels battery is charging
How long do power wheels battery last?
How to charge a power wheels battery –Frequently asked questions [FAQs]
Power wheels with parental remote (best picks this year)