As an Amazon affiliate, we earn a commision from qualifying purchases.
An important safety feature to consider when buying a power wheels for your son or daughter is a parental control remote.
It can be extremely handy during his/her hair-raising adventures (for example when he/she is riding in a dangerous direction and occasional situations such as when he can't seem to maneuver the car properly).
Read on to discover our most recommended power wheels with parental remote if you are shopping for a ride on car with this life saver for your wannabe driver.
Power wheels with parental remote – reviews of our top 5 picks
Now, we selected these models because of their excellent remote controls- the remote control is very responsive (which is critical) in all cases!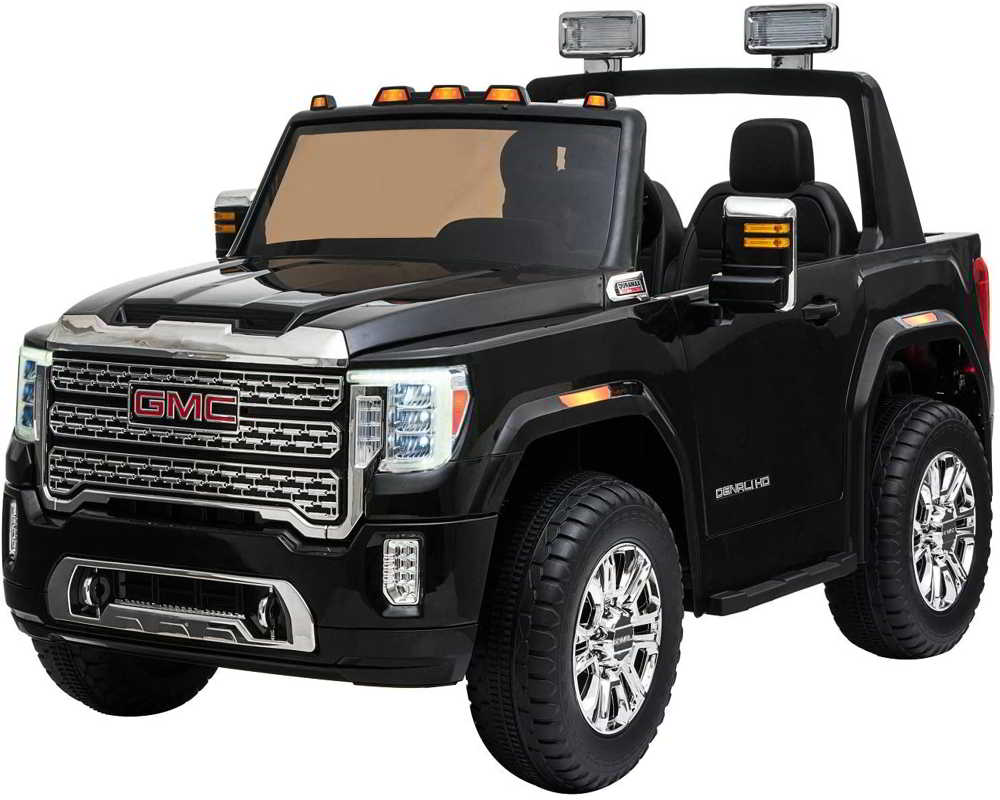 First things first: The tires here have excellent gripping on nearly all surfaces thanks to the rubber strip (in the middle of the wheels) so your kiddo can ride safely on grass, gravel, and even small inclines.
More importantly, you can use the remote control to override your 2 partners-in-crime (remember it is roomy enough to fit his/her friend/sibling) if they are driving dangerously.
To add, the 4 wheels utilizes a unique spring suspension system so your son/daughter will enjoy optimum comfort whether on a grassland, brick road, cement road, or rubber track).
Moving on, the toy features 2 adjustable speed options (low and high switch-controlled options) so your kid can go as fast (or as slow) as he/she wants.
There are other nice touches too including a horn, realistic start-up sounds, and a great on-board sound system (with a AUX port, USB slot, MP3 SD card socket, pre-saved audio library -with wonderful kid's music and stories)- and more.
Overall, this 2 seater ride on car with parental remote control can be a solid option for endless fun!
Key specifications
Speed: 2 speed (2.5/5.0 MPH -Low/High)
Weigh limit: 88 lbs.
Age limit: Best for 2-5 (but it is recommended for 3-8 years old)
Car dimensions:inches x 33.5inches x 29.inches (length x width x height)
Wheels: 12″ Plastic Wheels (with rubber strip)
Pros
The truck is super easy to assemble (follow the GMC assembly video published on Amazon).
Very well made.
Easy to reverse.
Cons
No grab bar handle (on the back)- it can be helpful when you want to drag the car back to your charging station.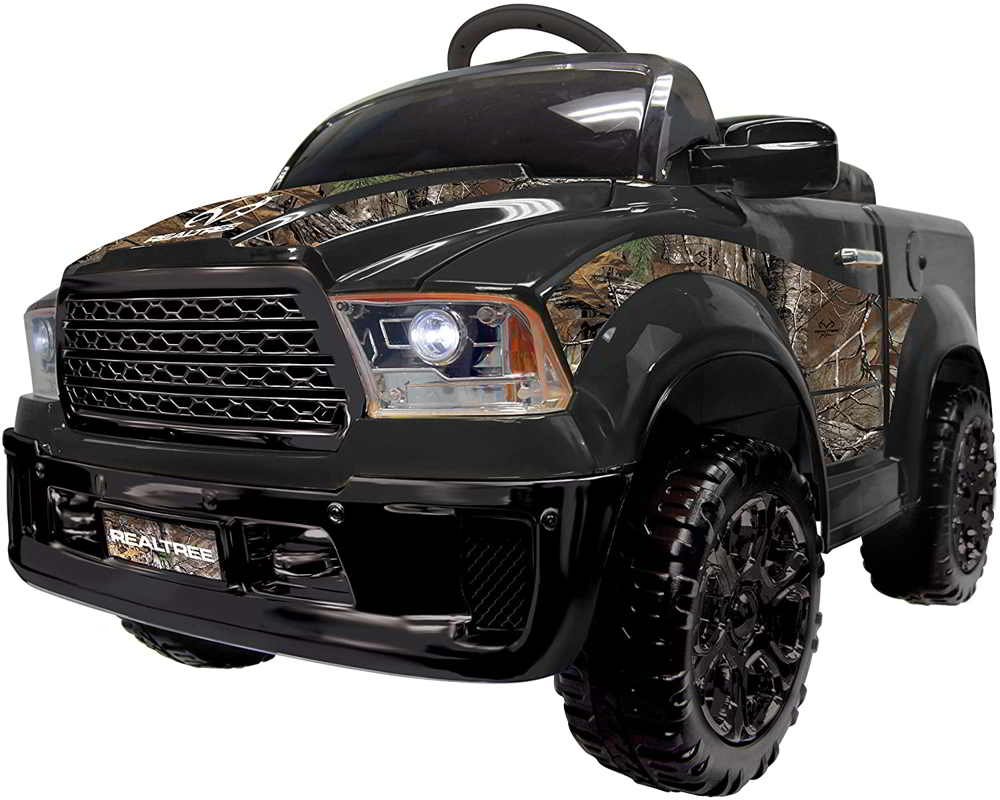 Featuring a super cool appearance and thrilling off the road, this little truck is a perfect present for girls and boys who cannot get enough of off-road adventure.
In truth, this thoughtfully designed ride-on car will wow your child (and you too) thanks to its impressive collection of features.
To be clear, it has the features you'd expect in a 'serious' toddler toy such as a naturalistic engine start sound, headlights, well-built seat belt, and obviously remote control access (for moments when your kiddos don't pay attention).
But this 2 seater "monster truck" also comes with bonus features like an upgraded 12-volt battery for longer drives and incredibly intuitive controls (your kid will find it a breeze to control).
There's also working headlights, horn sounds, SD card slot (with story play), USB connection, and an opening trunk.
In a nutshell, this is one of the best ride on cars with remote control out there and it can be an excellent alternative.
Key specifications
Speed:0-5.0 MPH
Weigh limit: 60 lbs.
Age limit: Best for 2-4 year olds
Car dimensions:0 inches x 25.0 inches x 18.0 inches (length x width x height)
Power: 12V battery (1 LR44 battery)
Pros
Unbeatable for off road expeditions (it's our standout choice for riding on the farm or large yard)
Handles challenging terrain like a champ.
Reasonable battery life (45 minutes approx.)
Cons
Quick Tip: If you are looking for a 2 seater with both parental control and Bluetooth, perhaps you should consider this ride on car with parental remote control and Bluetooth (4WD).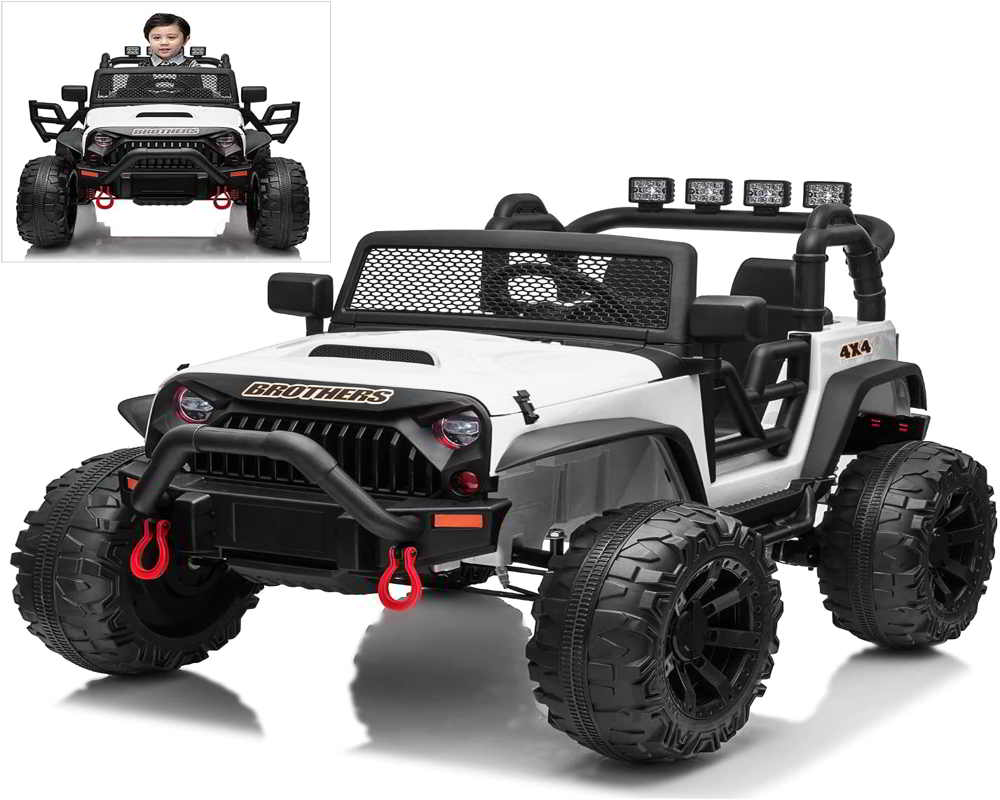 The highlights in this 24V power wheels with remote control are the ultra powerful 200W motors (it oozes real power), a convenient pull handle (for enhanced portability), 4 wheels suspension (for a smooth driving experience), and working LED lights.
That's not all- this power wheels with parental remote comes with rear lights plus four (4) search lights (on the top).
Add the roomy seat (with adjustable seatbelt), two side doors (openable), remaining battery power display (to keep track of remaining fun time), and the openable hood (for storing your kids' toys) and you have a winner.
What's more, there is an amazing music player with outstanding built-in musical tunes (he/she can also play their favorite music list by AUX, TF card, USB, or Bluetooth connection).
Can you now see why this has been gaining popularity so fast?
Key specifications
Speed: Three speeds (3.0 to 5.0 MPH)
Weigh limit: 65 lbs.
Motors: 200Wx2
Age limit: Best for 3+ years
Car dimensions:0 inches x 35.0 inches x 31.0 inches (length x width x height)
Power: 24V battery (12V7Ax2)
Pros
Easy battery access for charging.
Decent speed.
Electric power steering (makes it friendly to control for even a small child)
Cons
Though it can carry 2 children, it is not roomy enough to fit 2 kids comfortably unless they are both very slim.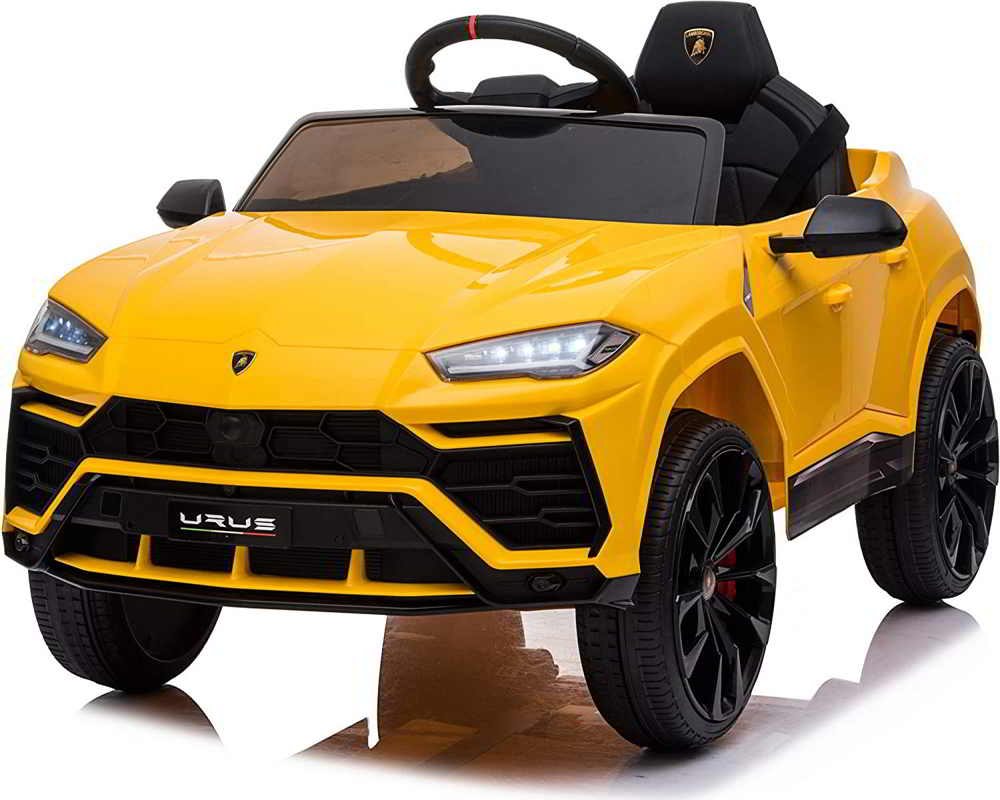 We like everything in this high performance 12 V electric ride on car for 3-6 year olds.
From its famous wear-proof tires to the magical spring suspension system that absorbs shocks terrifically when on bumpy terrain, this has everything to make your kid smile.
And as with its competition, it has tons of safety features to avoid a nasty accident with the parental remote control leading the way.
We should add that the doors have safety locks that you must unlatch first to open/close while the nice seat comes with a functional safety belt.
Other lovely features worth mentioning are the soft start design (you don't want your kid frightened during startup), head lights (again for safe riding during shorter winter days) and the onboard entertainment (he/she can play FM radio/music from the phenomenal speakers).
Key specifications
Speed:0-4.0 MPH
Weigh limit:6 lb.
Motor: 2 motor (35Wx2)
Battery: 12v (5AH) -expected run time is 50-60 minutes.
Age limit: Best for 1-4 year olds
Car dimensions:3" X 25.6" X 20.5" (length x width x height)
Pros
Cute looks.
Very comfy ride.
Good acceleration.
Cons
Smaller for older children.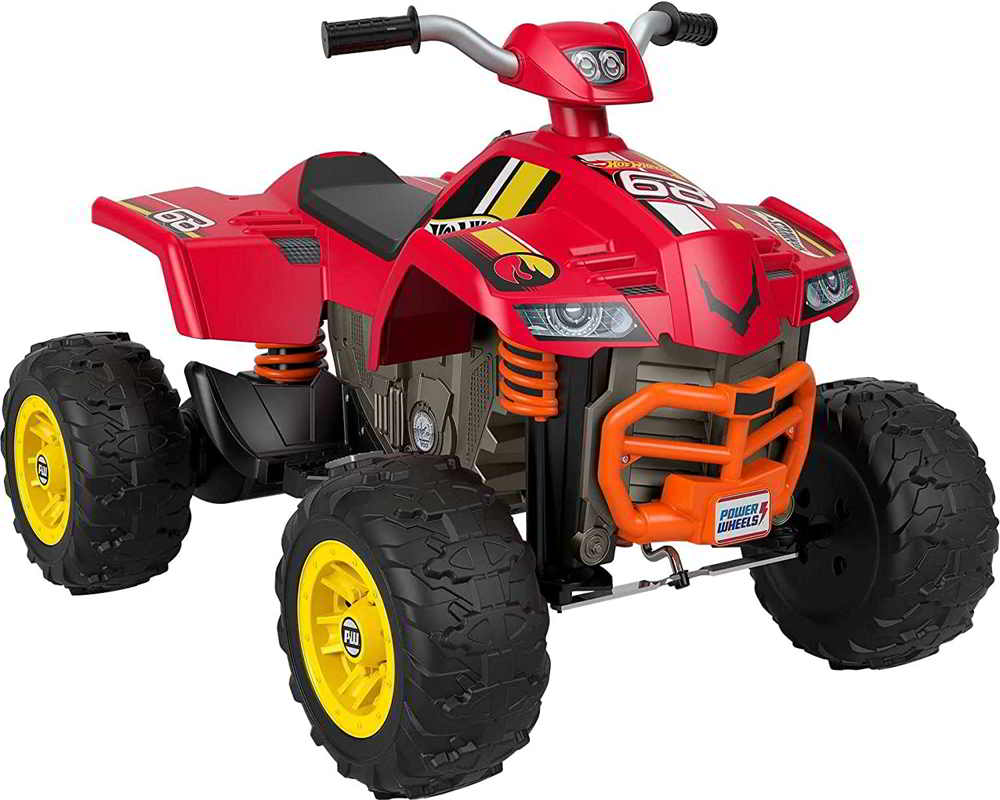 If your young champion is between 3-7 years and you prefer an ATV style power wheels, this can be a fantastic option (max. weight limit is 65 lb).
He/she will be happy with the cool graphics and certainly the hot wheels colors while the superb speeding (it can hit 6mph forward and 3 mph max. reverse) will send his/her euphoria over the moon.
Plus, we love how the vehicle drives on everything including hard surfaces, slippery grass, and other rugged terrain thanks to the awesome drive system.
Moreover, the controls have a more kid friendly design (compared to classic throttle version power wheel quads) while the pedal is easy to use when it comes to activating it.
Above all, the parent-controlled high-speed lockout (along with the power-lock brakes) lets you take over the quad to keep your kiddo safe when necessary.
On the whole, it's another super solid alternative.
Key specifications
Speed:0/6.0 MPH (Max. reverse/Max. forward)
Weigh limit: 65 lb.
Age limit: Best for 3-7 (recommended)
Car dimensions:09inches x 29.13inches x 26.97 inches (length x width x height)
Wheels: 12″ Plastic Wheels
Pros
Very easy to put together (only a few things need assembly -the wheels, grill, and steering to be specific).
Good battery life.
Sturdy construction.
Cons
Heavier than other power wheels with parental remote which makes it a little bit slower.
A word on power wheels batteries and battery maintenance
Charging is often a major concern with power wheels and you want to charge it fully initially (check the charging instructions) to have the battery work properly.
In addition, for the most part, the manufacturer-supplied batteries may not last very long.
The good thing is that there is workaround for this- an extra battery and charger (and the two accessories are not very pricey both online and in most local stores).
Taking that route will give your kiddo more fun time and can make your gift something to be always cherished.
Give this a thought even as you shop for the best ride on car with remote control.
What to consider when buying a childrens electric ride on car with remote control
You should keep these things in mind when shopping for a  kids electric car with remote control:
Weight limit-Verify that it fits your child comfortably before ordering (don't forget to check the dimensions as well).
Assembly– You surely want a ride car that won't take a lot of effort to put together.
Speed options– More speed options make more sense for experienced kids who are looking to take their adventure to the next level while a slower speed is safe if he/she is just beginning.
Wheels– Rubber wheels are way better for traction and durability but quite uncommon at this level so focus on good quality wheels.
Battery– This is very important (look for a car with the best battery time but bear in mind that proper conditioning is essential for optimum performance and longevity).
Power– You need a model with improved oomph if your kiddo loves off road riding so look for power wheel brands with extra power.
Others– Features like a good radio/music system, working LED headlights, openable  doors, a spacious seat, an adjustable seatbelt, and soft-starting technology (these are just a few) not only boosts safety but can also make the car more fun.
Wrapping it up
Of course, if your kiddo is big enough to steer and take control of the wheel, remote control will not be necessary.
But if he/she is still growing into the game and yet to figure out how to maneuver these kinds of boredom busters completely on his/her own, a parental remote will be a must-have.
Thankfully, we have done the heavy lifting so you now know where to start when shopping for a great ride on car with parental remote control.
Your call now!
ALSO READ:
How to troubleshoot a power wheels
Your power wheels battery charged but not working? Try this