As an Amazon affiliate, we earn a commision from qualifying purchases.
You and I know that it's great to have a second power wheel dune racer battery to keep the fun going.
Also, Power wheels dune racer batteries do not last that long and you may need to replace it from time to time.
That being so, below we review 3 amazing batteries that will keep your young driver's Power Wheels dune racer zooming around when it is adventure time.
Power wheel dune racer battery -3 best picks
Below are the battery brands that all awesome dads should go for if serious about creating lasting memories for their little champs: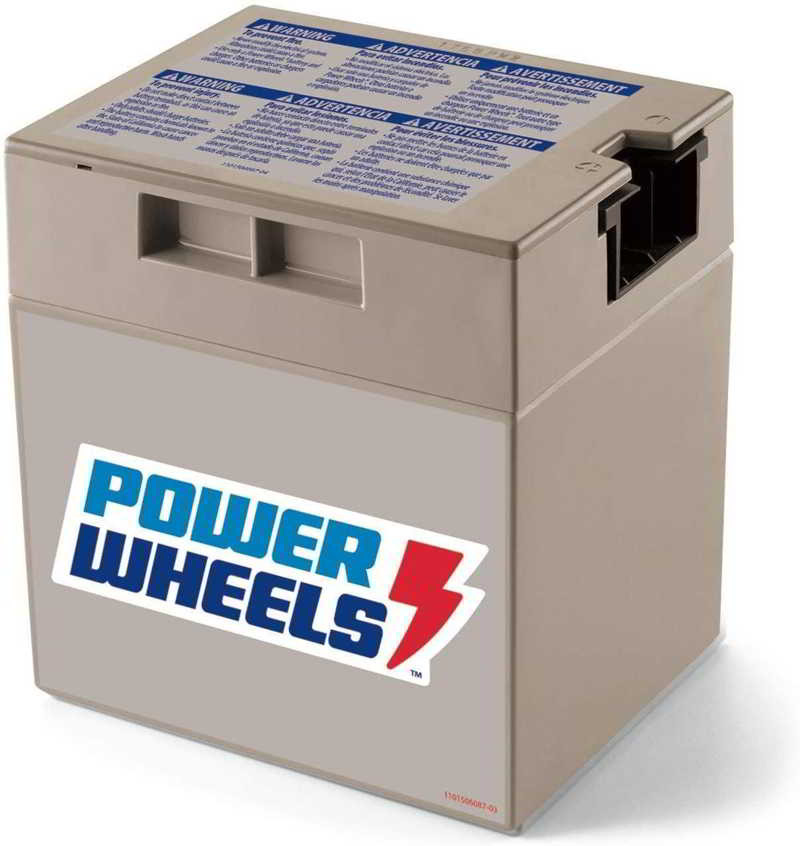 If you don't mind the price, this official replacement battery for Power wheel dune racer should run your Grandchild's high-performance monster for hours on one charge.
Most importantly, unlike the cheaper generic power wheels dune racer compatible batteries, no mods are needed to make it fit and work.
This 12-volt battery fulfills the rigorous dune racer power requirements so your littles will have a blast every time they are out there on another off-road adventure.
And with an internal, self-resetting fuse added, your wannabe stars will be playing on the safe side just in case something undesirable happens (stray voltage, for example).
Charging it is super quick with your stock charger but you need to charge it for 18 hours before he/she rides with it for the first time.
To add, the battery should not be charged for over 30 hours and it should always be recharged for 14 hours (at least) after use.
In short, you will really enjoy having this battery (and your kid will proudly crown you the best dad ever!)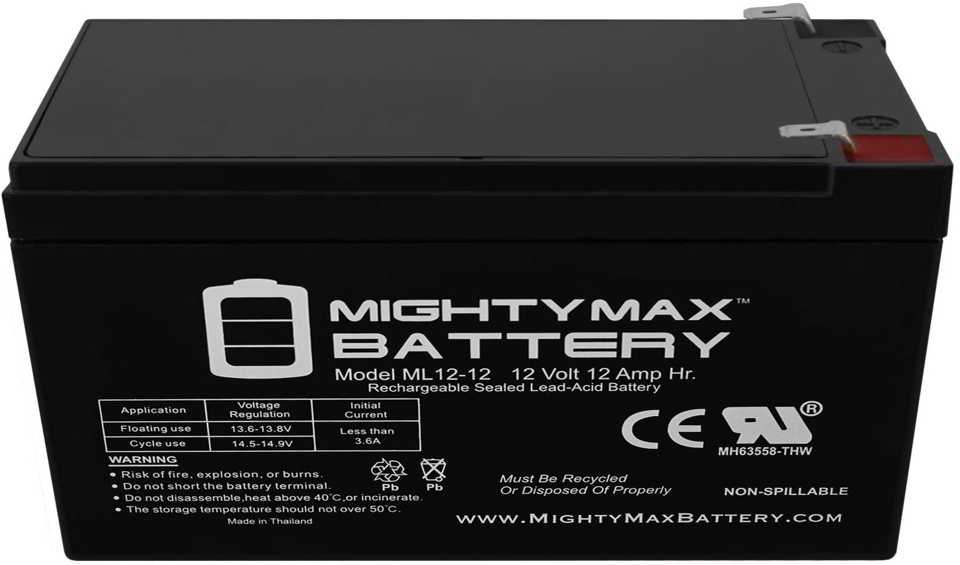 We all know that Power wheels branded replacement batteries are insanely expensive (looking at the price, you'd think they will last a lifetime but alas!)
So if you're among those that can't put up with the ridiculously-priced OEM Power wheel dune racer battery above, the 12 Volts 12AH SLA Battery from Mighty Max Battery can be an awesome alternative.
Keep in mind that it has the same nominal capacity (12Amp Hours) as the OEM dune racer battery.
The only caveat is that you could need to carry out some mods for it to fit (it's not the exact same size as original) but it's all worth it, if you look at its incredible price and run time.
To be clear, you may need to trim the factory battery location a little bit to get it to fit.
You then need to cut and splice new connectors for it to work.
However, there is another way of using this universal power wheels battery (if you'd rather not cut and splice new connectors): purchasing this adapter.
With it, you keep your stock Power Wheels dune racer harness (so you can plug in the old stock battery when the new battery runs out of juice) and still add this replacement battery.
Once you have completed the mods properly, your youngster will enjoy great power (and extended runtime).
The best part?
The cost of the wire harness plus the battery won't even come near the laughable money Fisher-Price wants for their OEM battery!
Quick Note: If you're not sure of how the mods are performed, be sure to search for a good demonstration video on YouTube.
If you need to replace the run-down battery for your kiddo's Power Wheels Dune Racer, this should fit in the vehicle's battery compartment without any issue.
But you should remember the following:
In order to correctly connect it to your toy vehicle, first either rip out the connector from your old battery (break open the battery top to do this).
Next, solder the old connector to this new battery.
The other option is to buy this wonderful connector- it works like a charm with this battery as well (you should take this route if you don't want to mess with the old battery).
And let the entire procedure not scare you- It is all very simple.
Once done, your wannabe drive will squeeze noticeably more fun time out of the battery (and the battery lifespan is unmatched).
In short, this could turn out to be one of your best investments!
Power wheel dune racer battery – other options worth mentioning
You can also take a look at these alternative batteries if you want to explore more options:
12V Battery for Power wheels Dune Racer Extreme -DML91 from Fisher Price – this was designed by Fisher Price specifically for Dune Racer Extreme -DML91
Technical Precision 12Volts Battery for Dune Racer W6201– this was also made to replace the run-down battery of a specific dune racer: Hot Wheels Dune Racer W6201 though it is also compatible with other Power Wheels ride-ons with a 12 v (9.5 Ah) battery requirement.
Replacement Battery for Power Wheels 12-Volts Battery – this too can be an excellent generic replacement option for the original Power wheels Green Dune Racer battery. It comes ready-to-fit (no mods needed).
A word on charging the new battery
Make sure you have charged the new battery for 18 hours (at least) before operating your dune racer with the battery for the initial time.
Also, the battery needs to be charged for 14 hours (at least) after each ride of the vehicle (Never charge it longer than 3o hours.
A word on the right charger to use with your new battery
Use only a 12-volts charger with 12V connector (input 120 VAC,60Hz and output 12VDC) to charge your new dune racer 12 volt battery. Other chargers could destroy it/cause a fire (or other damage).
For the most part, the stock charger should work with all the above batteries.
Frequently asked questions (FAQs)
How long does Dune Racer battery last?
45 minutes to 4+ hours  depending on weight of the kids and the riding conditions.
The power wheels dune racer battery life (lifetime) is 1-3 years (on average) again depending with how your kids are riding the vehicle.
Wrapping it up
The dune racer uses a 12-volt battery so we have only included 12 batteries in our reviews.
Don't forget that the Power wheels dune racer has a unique battery location that is designed to fit just a standard power wheels battery.
For that reason, be prepared to make some modifications if you wish to try out the typically cheaper and sometimes longer lasting aftermarket batteries.
ALSO READ:
Power wheels dune racer vs extreme -which is the better buy? 
Power wheels 12v battery alternative [3 great alternatives]
How to tell if power wheels battery is charging
How long do power wheels battery last?
How to charge a power wheels battery –Frequently asked questions [FAQs]