As an Amazon affiliate, we earn a commision from qualifying purchases.
Has your 9yo daughter/son been nagging you about buying him/her a power wheels that is big and fun enough for them?
If yes, below are some alternatives to power wheels for 9 year olds you could buy for him/her as a gift this upcoming holiday.
Just so you know, you have to go for alternative ride ons cars because there is no way he/she would fit in a conventional power wheels (9 year olds are generally too old and big for one).
So try these toys as nobody makes true power wheels for 9 year olds out there:
Power wheels for 9 year olds– 3 best alternative ride ons that rocks
Now, we choose these ride on cars for 9 year olds because they are roomier and more thrilling for older kids (starting at 9 years and going up).
Of course, apart from wanting a larger ride on (toddler and early school years electric cars are often a very tight squeeze for them), kids at this age love more speed, power, and more entertainment features overall in their toys.
So here are the 3 ride ons we recommend now that there are no real power wheels for nine-year-olds out there: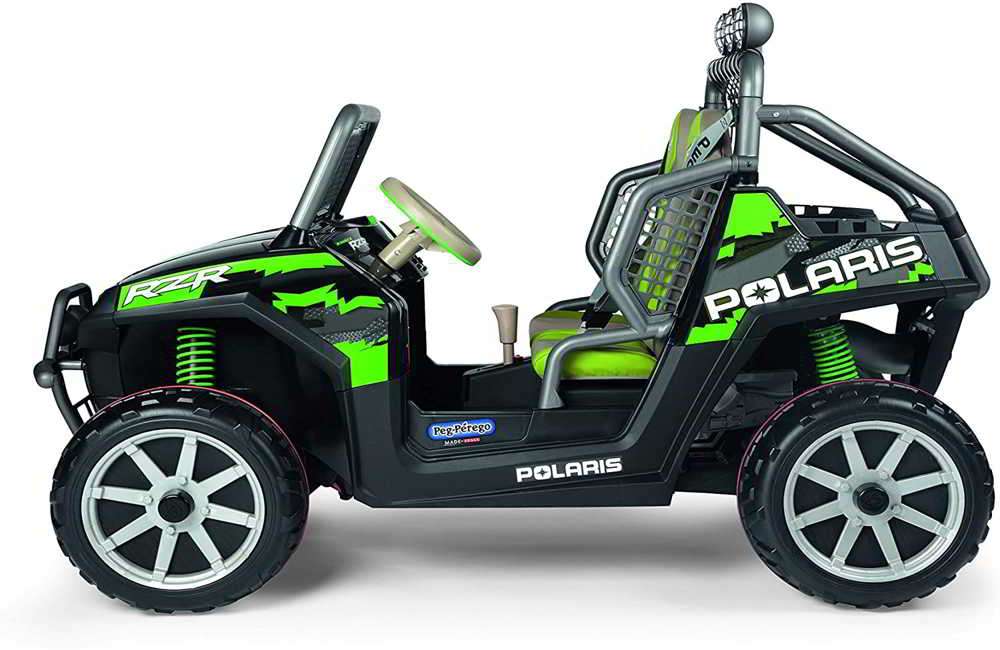 This one is a good size for most 9 year olds so your son/daughter shouldn't have an issue fitting in.
In fact, even taller kids won't run out of legroom with this- it's 63 inches x 38.5 inches x 42 inches when assembled.
Keep in mind that there's a 14 inches diagonal (approximate) from the front-edge (of the seat) to the bottom (of the pedal).
There is extra room to even slide back (on the seat) for your kiddo.
And the good thing is that the ranger is perfect for fun all over – your kid can drive this 24-volt super power at speeds of 3 1/2 and 7mph.
Don't forget that the included large wheels feature Peg Peregp's proprietary Red-line Nitrile traction technology so they perform pretty much like actual ATV tires so it has no problem traversing different riding surfaces.
And for a more realistic riding experience, it comes with functional seat belts, working (rear) suspension plus an FM radio (with MP3 input).
The 24-Volt rechargeable battery (and its charger) is included.
You can even pair this with Peg Perego's adventure trailer to ramp up the fun.
Key features
Shock Absorbing Suspension.
2 Safety Belts
Adjustable Seats.
Accelerator and Brakes (in Single Pedal).
2 Forward Gears + Reverse Gear.
Spacious Load Box (to carry items).
High speed lock-out feature
Keys specs
Recommended age: 5-10 years
Max weight limit:  150lbs
Dimensions: 63 inches x 38.5 inches x 42 inches
Speed: 3-1/2 (low) and 7 mph (high)
Battery: 24v
Pros
Fairly easy to put together.
Decent speed.
Performs well everywhere- pressed gravel, short grass, hills, hard dirt road, etc.
Cons
No working lights are included on this unit.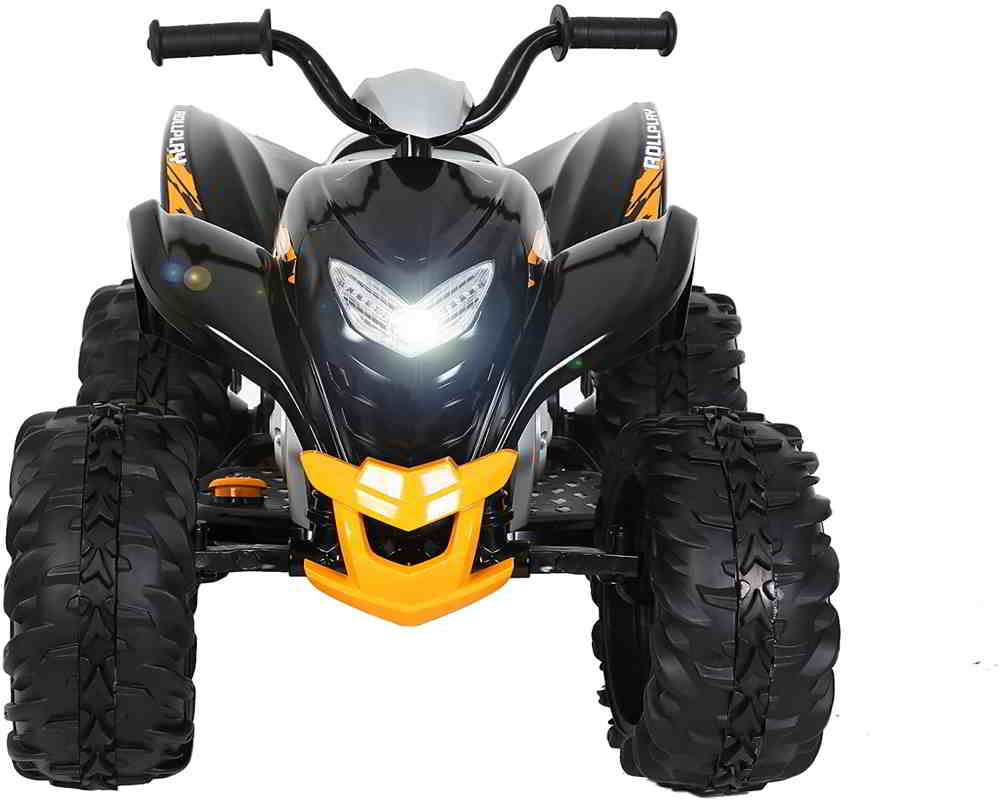 An ATV is always a much better option than a power wheels ride-in vehicle for older kids and this is an extremely exciting electric ATV and an excellent first electric quad for 9 yo children.
The quad is big, wide, and strong and it has a battery that lasts a long time.
It's easy to control as well- as long as his/her foot is stepping on the accelerator.
The wheels are oversize and the body lifted, which make it easy to run over little dirt hills and small bumps.
And while the tires are made of hard plastic, there is a rubber strip (1-inch) down the middle to ensure solid grip on cement, hard dirt, and solid grass spots.
It is not hard to put together and overall, you should be able to fit everything together securely in about 20-30 minutes depending on how handy you are with DIY assembling chores.
And oh, and it will look super cool once you're done.
On the downside, it doesn't go very fast (It has a max speed of 3mph) – and this is why it is best for 9+ year olds who are just coming into quads or kiddos who are a bit scared of speed.
Key features
Oversized wheels (Tires with rubber strips -for added traction)
Working headlights
Authentic sounds
Foot pedal start
Keys specs
Recommended age: 3-11 years
Max weight limit:  77lbs
Dimensions: 38.97 inches x 24.01 inches x 23.62 inches
Speed: 3mph (highest), 2.5mph (reverse)
Battery: 12v (up to 2 hours run time)
Pros
Impressive battery life.
Goes in reverse (at 2.5mph).
Quality build and super sturdy.
Cons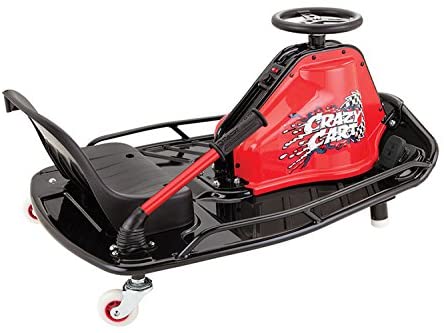 Most kids ages 9 and up love this thing because it provides a lot of crazy entertainment!
It goes really fast, it's perfect size (and he/she won't outgrow it quick), and most kids at this age find the Go Kart easy to use.
But what is perhaps its great selling point is the drifting feature- The product's steering wheel is noticeably different from normal toy cars or carts and is actually designed to drift awesomely.
So this is a very nice product if you'd love your kid to enjoy lots of drifting, which can be immeasurably pleasing for older kids.
Here is what you should keep in mind about the Crazy Cart's steering wheel: the arrow (on it) usually points in the to direction (where the cart is headed), regardless of how the Go Kart is oriented.
So your boy/girl should simply keep pointing the steering wheel arrow where he/she want the crazy Kart to go (varying pressure -on the acceleration pedal- can change the way the rear of the Cart shifts)
Don't forget that a helmet is highly recommended here.
Key features
Variable speed foot-pedal acceleration
Drift Bar
360 degree (plus excellent steering capability) for tight turns
Front stabilizing posts
Pneumatic front tire
Keys specs
Recommended age: 9+ years
Max weight limit:  140lbs
Dimensions: 37 inches (L) x 24 inches(W) x 19 inches(H)
Speed: 12mph (highest)
Battery: 24v (2x12v batteries)
Pros
Insanely fast.
Lots of drifting.
Quality build and super sturdy.
Cons
There are no seatbelts
Battery only last 40 minutes.
Final words
Whether the above alternatives to power wheels for 9 year olds will be a good fit for your kiddo comes down mainly to two things: His/her height and weight.
That being so, please make sure (before purchase) that the ride-on's dimensions are compatible with your kiddo's height and weight.
Don't forget that you can as well look for other more age appropriate ridable toys.
For example, something like an electric scooter can be a good option too.
ALSO READ:
Ride on toys for 8-10 year olds that stand out from the crowd
Electric 4 wheeler for 10 year old – Your 3 best choices Reviewed
Toy cars for 11 year olds – 7 best choices (Reviews)