As an Amazon affiliate, we earn a commision from qualifying purchases.
All young princesses in our houses have dreams and their biggest fantasy is living like true princesses themselves!
So there is nothing they cherish as cute, princess-themed gifts.
That being so, we have been compiling a list of enchanting presents for your princess-crazy little ones (visit the reviews section on this blog).
And so to add to our previous gift guides for kids in love with the princess culture, below are our recommended princess gifts for 6 year olds.
Go through the list and pick out your favorite- we are sure that any 6 year old girl deeply passionate about anything to do with princesses will find them super-fun.
Princess gifts for 6 year olds – Our best picks (12 choices)
All princess-obsessed 6 year olds girls will be glad to have these wonderful goodies as a present:
Monobeach Princess Tent -Girls Large Playhouse Play Tent [55" x 53" (DxH)]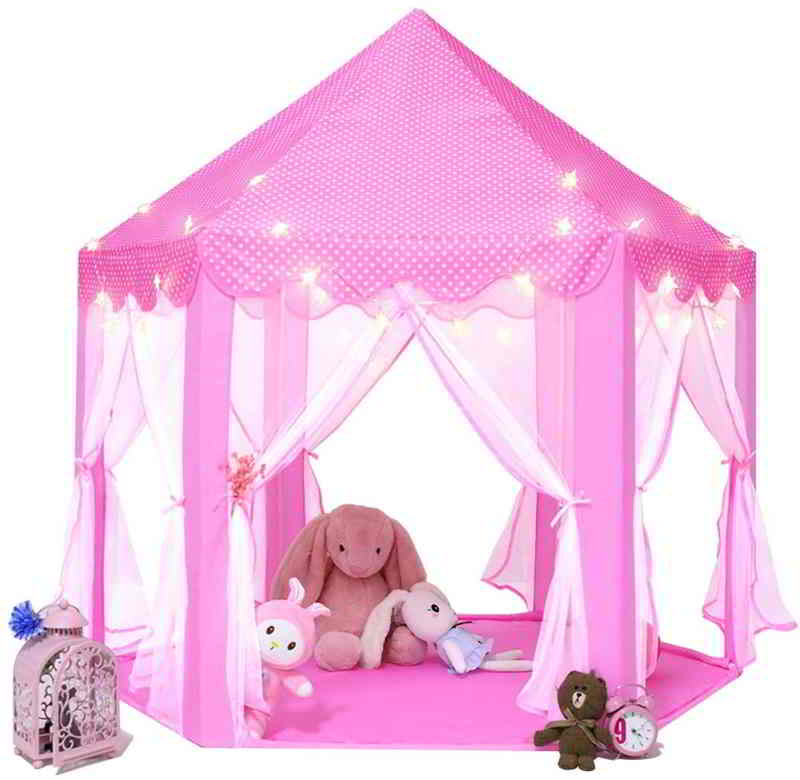 This looks great – just as pictured and your 6-year-old will love playing there with friends or siblings (it's a nice way of sparking creativity and imagination)!
More importantly, it's roomy enough for a 6 year old (and perhaps one or two of her buddies as well as her stuffed animal pals).
Simply setup it up in her room and let her have fun – don't be surprised if she chooses to sleep in it every night!.
The only downside is that it is a little fragile for roughhousing but again they pack extra pieces – just in case a part breaks.
Princess Dress-Up outfit (4 shoes plus  1 Crown, 1 Necklace, 2 Earrings, 1 Handbag, 1 set of gloves, 1 Rings)- great for dress up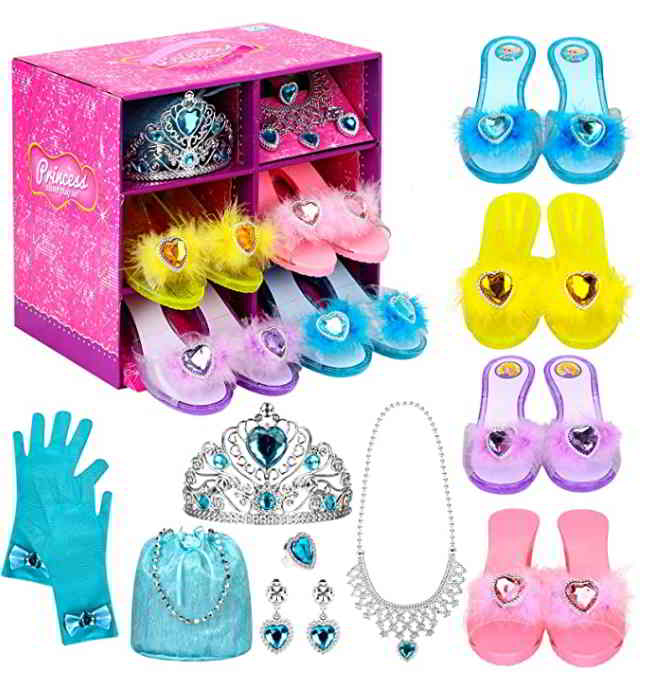 This is the perfect gift if your little girl loves acting and dressing like a princess at every chance.
Just get her a good princess dress (the Unicorn princess dress can be fantastic) and then have her put on the "High Heels" shoes in this package.
It's worth mentioning that the shoes are pretty thick and solid (and not remotely near the cheaply build designs you get with lower-priced sets).
The accessories in the set will make her appear as beautiful as her princess hero.
Seems like a cool simple solution to us, if you are looking for a nice princess dress up set.
Shoe dimension:
Length- 7.3 in
Width– 2.6 in
Heel height- 2.0 in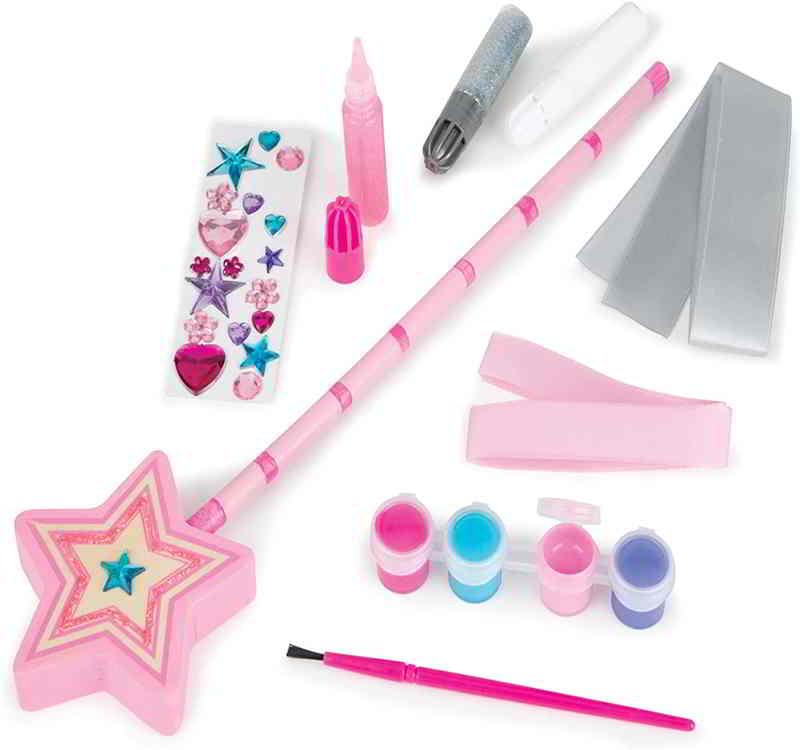 If your little princess is also DIY crafting obsessed, then you have an amazing gift in this princess themed crafting kit.
The kit is easy enough for a 6 year old to paint and decorate it without needing your help or supervision.
We also appreciate that the paint quality is great – it's pretty metallic- and there is a range of colors to choose from.
Glitter paint is also added to the kit to help hide imperfections and accent things!
It's a smart way to engage her for a while -while giving her much-needed hands-on play experience with crafting stuff.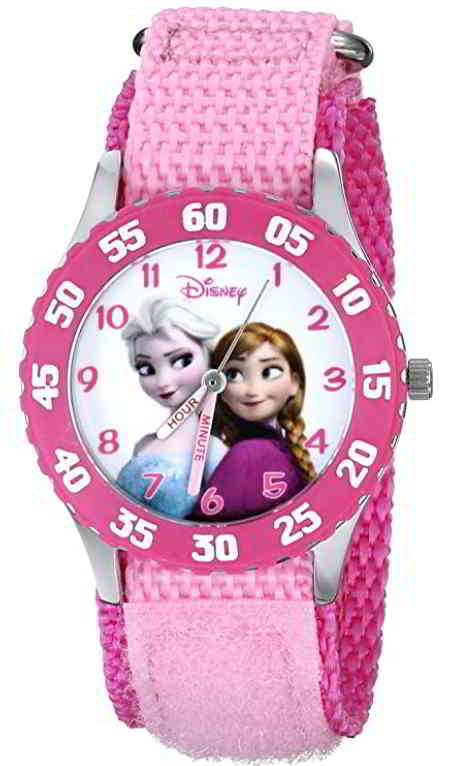 What about a princess watch?
Yeah- it can be a good way of training her how to tell (and keep) time-  there is an "hour" and "minutes" hands -with a 0-60 minute dial- so it is really simple for her to master how to tell time (the analog way).
It is easy for kids to put on and the velcro is very well made not to mention that the strap adjusts to different wrist sizes (for small wrists).
Also, it looks nice so she is going to be one elated princess!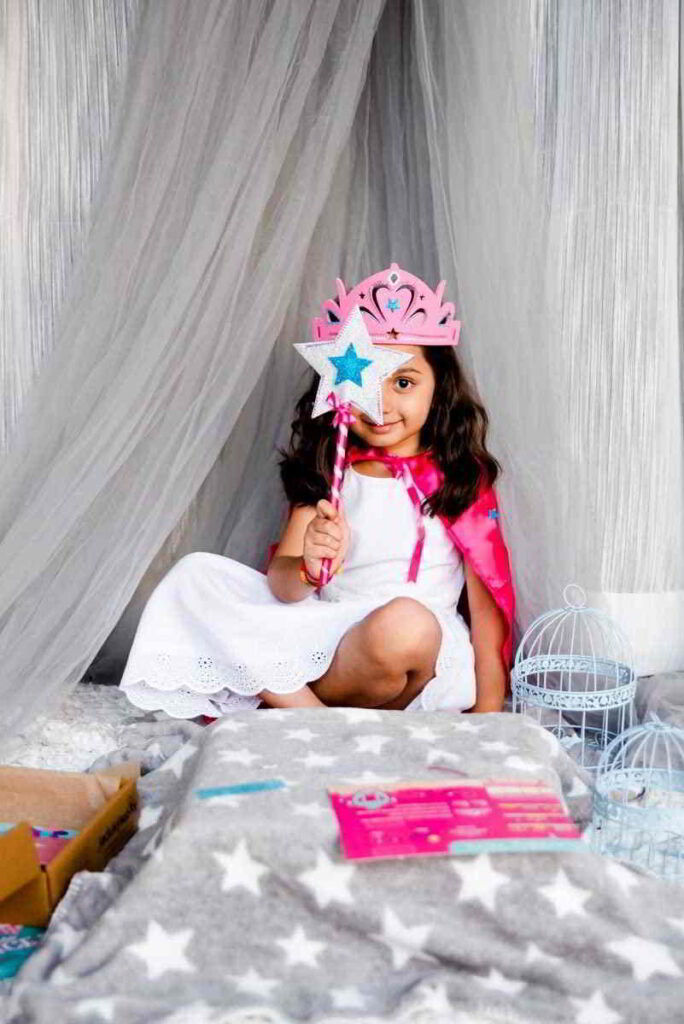 Another option for girls who love designing and building princess-inspired pieces, this kit comes with instruction cards that are super easy to follow and illustrated.
The different craft materials are in a bag and she can use them to make "princessly" things like a cape, tiara, and a wand exactly how she fancies them.
These materials are made to make the whole project a walk in the park for your girls- they're all in various beautifully cut shapes and are made out of really soft foam.
So they peel and stick easily and your child should be able to work with them to build any of the three princess items without your assistance or supervision.
You will be very proud watching her assemble and wear her own princess tiara and cape on her birthday (waving the wand is also very exciting for most girls).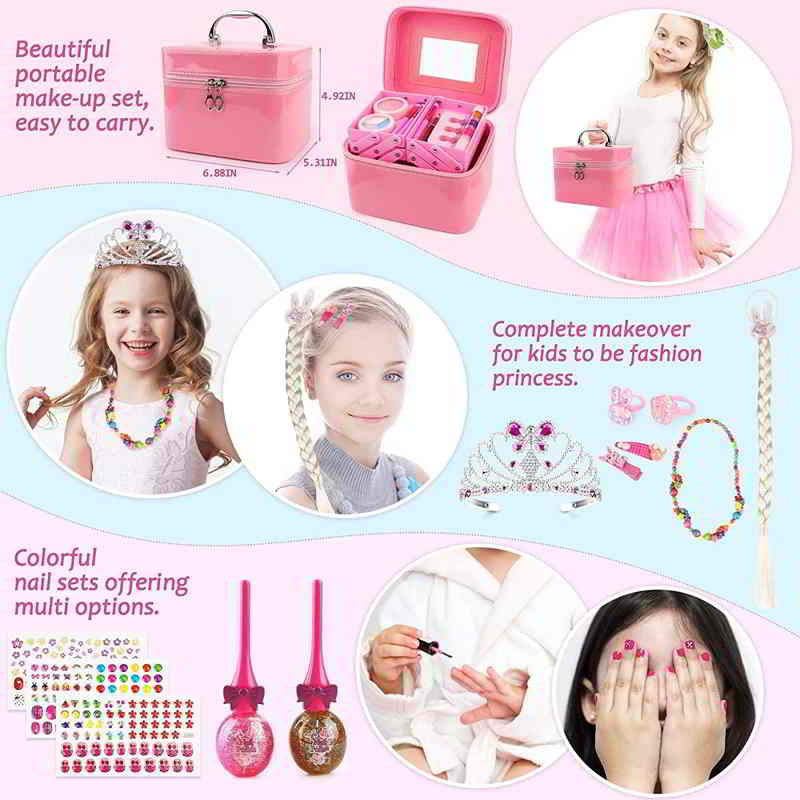 This kids' cosmetics set is her chance to imitate fellow princesses by applying "princess-standard" makeup and stand out from the crowd (she will probably also feel more confident and become more sociable and assertive among her peers).
The set comes with a princess crown, lip gloss, 3 eyeshadows, powder puff, eyebrow pencil, nail file,  2 lipsticks, 3 nail stickers, braid wig, 3 hair ties, 2 brilliant rings, 4 make up brushes, a necklace, 2 hair clips, a bracelet, 3 lip gloss, pressed powder, 2 nail polish, blush, and lastly, a make-up case with mirror.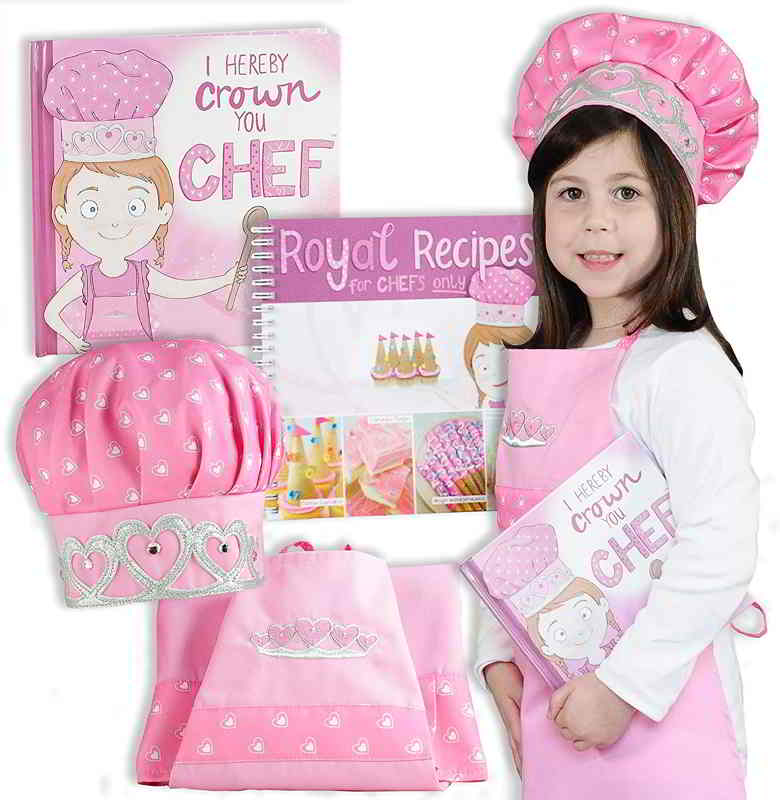 Does she like to act chef?
If yes, give this to your 6 year old girl.
Wearing the outfit and trying out the included recipes is another awesome way to crown her a princess (and a master chef!).
The recipes are excellent and the family will have crazy fun eating everything she makes (with a little help from you sometimes) from the princess pancakes to candy, macaroni and cheese, icing toast, pizza and even quesadilla.
Princess gifts for 6 year olds- other princess gifts worth checking out
Princess Jewelry Boutique Dress-Up and Elegant Shoes– this has 4 pairs of heels shoes for girls up to 6 years old) and a range of role play fashion items (crowns, bracelets, necklaces, rings).
Princess makeup box– there is a load of make-up tools in this impressive makeup box (with a handle) so she can always apply her own makeup to meet her princess dream!
Wonder Forge Disney Princess-Enchanted Cupcakes Party Game – This is a thrilling fast matching cupcakes party game that 6 year olds who love Disney Princess like to play. It combines two things kids love: princesses and cupcakes so you can imagine the excitement.
Princess hat– This is a good quality princess hat with a clear design. It's made of very comfortable material.
Princess Dressy Daisy Halloween/Birthday Costume – This dress will also make your daughter stand out thanks to its delicate blend of purples and pinks.
Conclusion
We don't know what your princess likes…but we can bet that she will be more than happy with any of these princess gifts for 6 year olds.
Pick one (or as many as your money allows!) and make her day this coming birthday, holiday, or play date.
ALSO READ:
Games for 6 year olds girl [Adventure games, Educational games, Board games, Outdoor Games]
10 Easy and Cool Craft ideas for kids with waste material