As an Amazon affiliate, we earn a commision from qualifying purchases.
So you can't decide between a plasma car vs wiggle car yet your kids won't give you peace because they want to be riding a ride-on similar to the one neighborhood kids ride?
We know it can be a tough call since they look identical (a lot of people see little difference between them), ride nearly the same way, and kids love them almost equally.
Well, below is our plasma car vs wiggle car comparison to help you make an informed decision:
Plasma car vs Wiggle car – Everything compared
Before we go into the details, here is what we think about the Plasma car vs Wiggle car debate (in summary): The Plasma brand car is generally a better option than the Wiggle car.
You see, while they appear pretty much similar, the 2 wiggle cars are far from being the same!
Read on to understand why the two are nowhere near the same thing..
Age and weight limit compared
While both cars are designed for kids, the minimum age for a child to ride the Wiggle is 2 years (It's best for kiddos up to about 6 years) while the Plasma car is for kids aged 3+ years.
Regarding max weight, the Plasma car carries most weight- the Plasma car can support heavier children weighing up to 220 lbs.(100 kgs) so even an adult can ride.
For that reason, we would suggest an original Plasma Car if your children are a little on the larger side.
Suffice to say that the weight limit for riders of the Wiggle car is 110 lbs (50 kgs).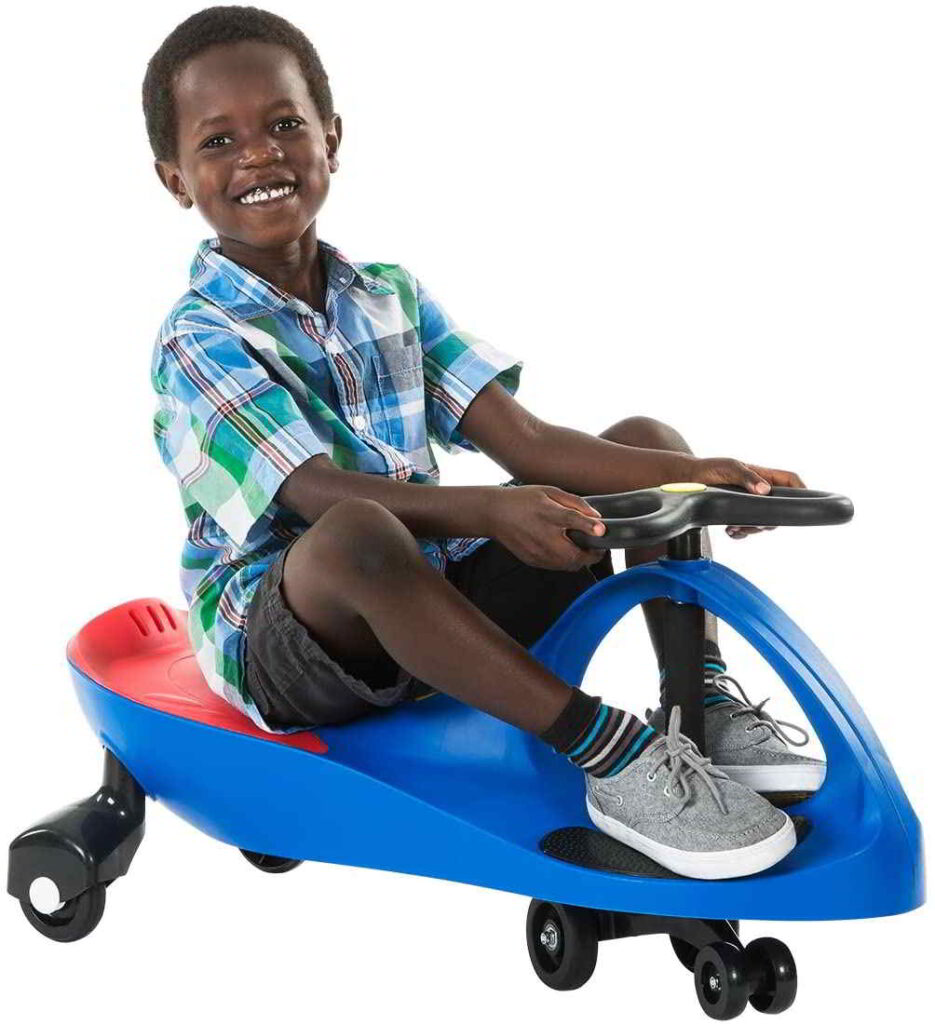 Fig 1: Plasma Car
Ride comparison
Again the ride quality of the Wiggle brand is a little lacking compared to a plasma car- the ride is not just as smooth as with a plasma car.
In fact, it's a bumpier ride when a heavier kid rides on it and the wheels just seem to go uneven.
The seat
Another noticeable difference is in the design of the seat..
Now, for the Lil' Rider Wiggle car, the seat doesn't have a very good seal and could pinch the rider if left as it is.
Plus, there is no handle -on the back- of the Wiggle seats like the Plasma Car brand do, which we think is a nice added bonus.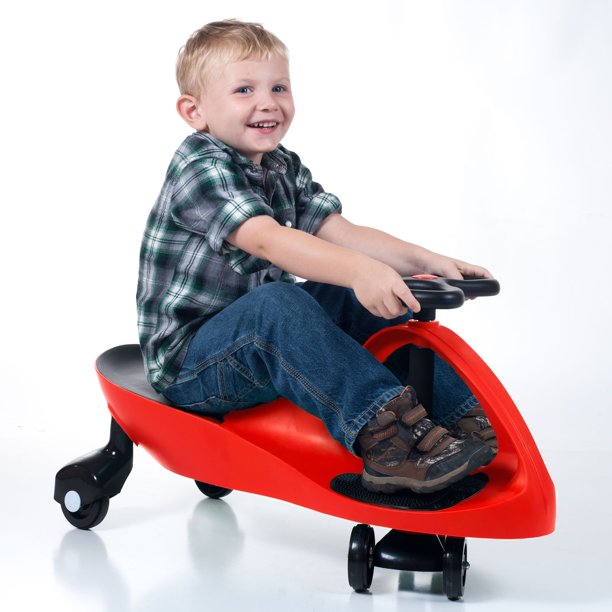 Fig 2: Wiggle car
Pricing
The original plasma car is expensive compared to the wiggle ride on car (The plasma car brand costs anywhere between $60-80 while the generic wiggle car comes at about $25-40).
So if you are short of money and your kiddos want a ride-on ASAP, you can go for the lil rider wiggle ride on car.
The thing is: it is nearly as fun as the Plasma (does almost everything the Plasma does) and your son/daughter will probably be very happy with it.
And the good thing is that most kids don't typically notice a difference -at all- and will simply be glad they can finally have a blast like their peers.
Plasma car wheels vs Wiggle car wheels
When you look at them both, the wheels on a plasma car appear a tad softer and are hence less likely to end up scratching up your floor.
To be clear, the wheels on the wiggle car seem to be made of slightly harder plastic than those of the Plasma car so there is a bigger chance of them leaving some marks on smooth surfaces.
Another benefit of the Plasma car wheels is that they're generally quieter -those of the Wiggle car tend to be much louder.
Please note that none of the two cars is good for wood floors (both can cause damage to wood floors).
Overall Build Quality compared
Huge difference! The wiggle car is simply not like a plasma car -it's made of significantly thinner plastic.
In other words, there is another bigger difference when it comes to the quality and weight of the materials used and the plasma car clearly carries the day here.
In truth, the wiggle sounds as if it is breaking when a heavier child sit on it (even a 60 pounds kid can make it make weird sounds) because the Lil' Rider construction is definitely lower quality.
We believe that this is one of the reasons why the Wiggle sells at a cheaper price.
Plasma car vs lil rider Wiggle ride on car – Features and specs compared (in summary)
| | | |
| --- | --- | --- |
|   | LIL Rider Wiggle Ride On Car | Plasma Car |
| Speed | Not indicated | 6 mph (10 km/hr) |
| Product dimensions | 30″(L) x 13.5″(W) x 16″(H) | 31″(L)  x 14″(W)  x 16″(H) |
| Max supported weight | 110 lbs | 220 lbs |
| Recommended age | 2-6 years | 3 yrs (and up)- it's an adult friendly car |
| Safety standards met | – | CPSIA, ASTM, CCPSA, EN71, ISO & ICTI certified |
| Awards | – | Multiple award winner |
| Available colors | Red, Fire Red, Blue, Ambulance Green, Green, Hot Pink, Pink-Purple, Police Blue, Purple, Red, Yellow | Pink-Purple, Purple, Lime, Blue-Lime, Blue, Red |
| Unique features | | Patented safety seat, Softer polypropylene wheels |
Final thoughts
Overall, we think the Plasma Car is a way better ride on than the wiggle car…the build quality is higher (its condition will be good for a long time), the rides smoother, it's more fun, and  it is very well designed.
Plus, it holds most weight and yes, you can even try it too.
In a nutshell, the original Plasma brand car is the real deal and the best wiggle car -by far- out there.
On the other hand, the Wiggle car makes sense for parents looking for a unique present for their kids on a budget- its greatest selling point is perhaps the cheaper price.
You can check Wiggle car current price now at Amazon here or the Plasma car current price at Amazon here.
ALSO READ:
Toy cars for 11 year olds – 7 best choices (Reviews)
Electric cars for 6 year olds – 3 mind-blowing choices