As an Amazon affiliate, we earn a commision from qualifying purchases.
Your kid's Costzon ride on car remote control not working? Learn how to repair it in this guide
If your little one is a first-timer driver,  you are unlikely to trust his/her driving skills- in any case, there is always a learning curve when it comes to introducing kids to ride on cars.
And so there will perhaps be no fun for your wannabe driver if the remote control has stopped working – and these accessories sometimes fail just a few weeks after purchasing the car.
That is where this troubleshooting guide comes in..
Read on to learn how to go about fixing a Costzon ride on car remote control that has quit working..
Let's dive in:
Costzon ride on car remote control not working – suggested fixes
If you are unsure what to do when your Costzon toy car remote doesn't work, here are some easy fixes to try:
'Reset' the remote control
It is possible that the remote control has lost connectivity with the car temporarily due to reasons such as poor contact (of the batteries) or static electricity.
The good thing is that this is an issue you can correct by simply resetting the battery, which simply needs you to remove the batteries briefly (for approximately 1 minute).
So open the battery slot in the remote and remove the batteries for about 60 seconds (Refer to your ride-on car manual if you are not sure how to open the battery compartment).
Try to operate the remote after you have inserted the batteries back inside and see if the toy has started to respond.
Has it worked? If it has not, try the following ideas:
Clean the ride on car remote control terminals
The other issue that could be causing the remote control not to work is dirty battery terminals (they may also be corroded).
That being so, go ahead and remove the batteries once again.
You want to clean your remote control's battery terminals possibly with a solution of alcohol (using a soft cloth or cotton bud).
After that, re-install the batteries into your remote control and see if it will become responsive.
ALSO READ: How to clean corrosion off battery terminals in toys [Easy Trick]
Replace the batteries (with fresh batteries)
You cannot also completely rule out the possibility of the remote control batteries being dead/flat.
And since these batteries are typically inexpensive, it can be worth ordering new batteries- it could be that the remote just needed new batteries.
Useful tips
Insert the batteries consistent with the positive (+) pole and negative (-) pole as indicated.
You should not use a used battery with a new battery or different types of batteries together- replace the entire set.
Use recommended batteries only.
Pair the remote all over again
There is a chance too that a disconnection between the ride on car and its remote control has occurred.
Here the fix is straightforward: You must re-pair the remote control to the toy car once more.
Again check your ride on car's manual if you do not know how to go about pairing remote to ride on car.
Go nearer the car
If you are still out of lack, try reducing the range- ride on car remote controls have a distance limit and will cease to respond if the operator has gone too far.
So, can you go nearer and then try to operate your Costzon car using the remote control once more? Reducing the distance sometimes does the trick.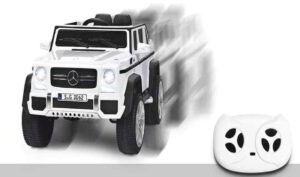 Remove any external devices nearby
Since some ride on cars remotes are affected by interference from other external devices (mostly those on the same 2.4GHz Bluetooth frequency), try to remove all Bluetooth-enabled devices in the surrounding.
This is the best way to confirm that the remote is not being interfered with by external devices such as 2.4GHz phones, wireless speakers, etc.
Replace the transmitter/ receiver kit
Another culprit is a broken receiver/transmitter (and this can be the case if the remote control of your kid's Costzon car had been dropped -to the floor- by accident).
Unfortunately, there is no straightforward solution for a damaged transmitter/ receiver and you might have to change out the whole remote control system.
There are some remote control kits for ride on cars on Amazon so head over there (Link) and look around for an appropriate option.
Quick Tips
It is recommended that you buy a complete control box+remote set to prevent pairing problems (buying a remote or a control box alone may not be helpful since they are designed to work together).
Compatibility can be a huge problem so try to look for a controller that resembles the one on your own Costzon ride on car- the models on sale are usually different (not universal).
Costzon Ride on car remote control not working – Frequently Asked Questions (FAQs)
My remote control doesn't work even if the car is fully-charged and there are good batteries inside the remote. Is there some switch I can press to turn on parental control mode?
Well, not really.
Instead, what you need to do is pair it to the car (remember it is Bluetooth dependent).
The process is super simple: Turn the Car off then hold the up& down button on the remote until lights flash.
You then turn the car back on – it should now be in parental-control mode
Costzon Ride on car remote control not working- Final words
If you have not been lucky with any of the above repairs, perhaps you should look for your specific Costzon ride on car remote control replacement..
The only challenge is that most of the leading ride on car brands don't stock replacement parts and you might have to turn to a generic solution.
If you decide to take this route, probably your best bet is a universal remote control for ride on car (and again there are very few universal options out there).
Now, if you cannot get a functional replacement, the best thing to do is replace the entire remote control system in your Costzon ride on car with a new remote control kit for ride on cars such as this.
Overall, it's a fairly easy DYI job especially if you first watch YouTube videos tackling the modification (Search YouTube for tutorials about adding a remote control kit to a ride on toy).
Good luck.